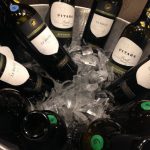 IEEM is an Italian organization that's helping to improve knowledge and foster greater enjoyment of Italian wines by countries around the world. Their  Simply Italian Great Wines Tour 2017 once again this year brought to Chicago many special wines chosen from a selection of Italy's multitudinous wine regions. Trade and media attended guided tastings-cum-educational seminars on such wine regions as Moscato d'Asti, Prosecco, Sicily and more, each of which offered glimpses into a broad array of Italy's offerings. Below are a few of the many lovely ones the #SimplyItalianTour showcased.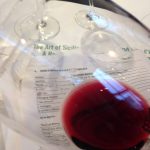 #SicilianWineArt has become huge business since the country established its Sicilia DOC designation. Two grape varieties – Grillo and Nero d'Avola – are grown exclusively in Sicily and are used to make a wide range of respectively white and red wines. Sicily has 100 days of harvesting every year when you count all the areas where grapes are grown. Colomba Bianca, Sicily's biggest wine cooperative representing five different wineries, brought to Chicago samples of some of its offerings.
Grillo Sicilia DOC Lavi 2016. Hand-harvested 100% Grillo grapes are turned via the Charmat method into a light straw yellow bubbly with intense, complex aromas like white flowers and orange blossoms with a citrus note. On the palate, taste nettle and sage, jasmine and melon. Minerally, crisp and fresh. Delicious with first courses of fish or vegetables and with white meats, tabouleh, mozzarella, anchovies and tomatoes.
Nero d'Avola Sicilia DOC Vitese 2016. Hand-picked and put into small crates during late August/early September, the skins for this organically made wine are macerated at low temperatures for two days to extract the sweet tannins an delicate color. Intensely ruby red – beautifully purple-red – it offers fragrant fruity aromas of red berries (cherry, blackberry) that are also minerally (graphite) and spicy. The tannins and acidity are perfectly balanced within a wine of great structure, smoothness and intensity. Serve it as an aperitif or with mature cheeses, cold cuts and meats of all types. We

l

ove this wine *****5 stars.

Nero d'Avola Sicilia DOC Kore 2016. One of Colomba Bianca's classic red wines, this 100% Nero d'Avola wine is ruby red with purple tinges and unmistakable aromas of prune, cherry and light spice. It's soft and velvety on the palate with a pleasing structure and a distinct fruitiness that's also elegant and refined. Serve with typical Sicilian dishes like spaghetti alla norma with eggplant and smoked ricotta. Even more complex and rewarding than the Vitese, these are both excellent choices for your best holiday occasions. *****5 stars.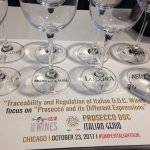 Prosecco DOC wineries included Piera Matellozzo 1899, Masottina, Supmanti Valdo, Barollo, Astoria and more. Here are two standouts from among their samples:
Barollo Prosecco Millesimato Extra Dry Treviso DOC 2016. Gorgeous (we gave it 5 stars) wine made from 100% Glera grapes. This small-production (25-30,000 bottles) Prosecco is fragrant with notes of candied citron and acacia flowers, yellow apple, peach and crusty bread.  On the palate it's dry, soft and fresh with a elegant fruity aftertaste. Perfect as an aperitif or with risottos with vegetables and fish dishes. 11% alc. ~$19. *****5 stars.

 

 La Marca Prosecco Sparkling DOC, imported by Gallo. Made with 100% Glera, this delicately golden straw yellow Prosecco brings fruity notes and a distinctive floral aroma along with a lively and persistent perlage of full-textured bubbles. The palate is fresh and clean with flavors of ripe lemon, green apple and grapefruit with an agreeable minerality. Well balanced with a light, crisp, refreshing finish. Serve chilled with starters and fish dishes. 11% alc. ****4 stars.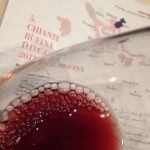 Other Italian wine regions came to introduce Chicago to their wines this year. Consorzio Vino Chianti presented guided tastings of wines from the seven subregions of Chianti – Montalbano, Rufina, Montespertoli, Aretini and others, plus Chianti Classico – all located in Tuscany between the great Italian cities of Firenze (Florence) and Siena. They explained how Chianti DOCG is now requiring bottles to be sealed with traceable labels – an important move to protect the integrity of fine wines from this region. The entire Chianti region has a new focus on quality rather than quantity as had been the case for many decades. A few memorable vintages from the tasting, all coming in at around 14% alcohol:
Chianti Rufina DOCG Riserva 2013. 95% Sangiovese, 5% blend of three grapes indigenous to the region. A beautiful wine grown on rocky soils and made with traditional wine making processes, including fermenting in steel vats and maturing in big oak barrels for two years and in the bottle three months. Fine, delicate aromas due to late-growing Sangiovese. Perfectly balanced. *****5 stars.

 

Chianti Colli Fiorentini DOCG Riserva 2013. 90% Sangiovese, 10% Cabernet Sauvignon. A single-vineyard blend made from grapes grown in mixed soils with riverstones. Grown on old vines with at least 1 meter between the vines. *****5 stars. ~$13.

 

Chianti Montespertoli DOCG Riserva 2013. 100% Sangiovese. This is a single-vineyard wine that's light and acidic – the result of planting Sangiovese grapes in a northern exposure. This results in greater structure yet the expression is very well-balanced. 14% alc. ~$25.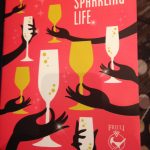 A third Italian group, Consorzio Vini Friuli Grave, this year brought to Chicago a selection of its DOC sparkling and still wines – "fresh and fun wines,." Made from grapes grown in Friuli Venezia Giulia, a northeastern area of Italy that's rich in tradition, colors, aromas and flavors, these wines tend to be lighter, with alcohol content ranging from around 11% to 13%. You're sure to find something to please anyone within this portfolio. Here are a few they brought here to sample at #TheSparklingLife presentation:
Spumante Rose Extra Dry "Collevento 921" from Antonutti Vini dal 1921. This delightful sparkling wine belies the old reputation of spumante as overly sweet and syrupy. It's made with 80% Merlot and 20% Refosco via the Charmat method. The color is bright pink with a bouquet of red berries (raspberry, currant and strawberry) and a light, fine lingering perlage. Its lovely character is due in part to the fact that the Merlot grape never gets overly ripe in the cool weather of this area. Excellent as an aperitif or with appetizers or fish platters (the Italians love their fish!). Priced between $8 and $15 depending on where you get it, it's perfect for the holidays. 11% alc.


 

Friuland "Le Bastie" 2011 DOC Friuli Grave by Tenute Tomasella. This small-production (2500 bottles) wine made of 100% Friuli grapes has a creamy texture with great fruit taste. An intense golden-hued straw yellow color, its bouquet is refined yet intense and features a blend of spices and fruit with a hint of vanilla. It's because they use a process called "friulano" which reduces oxidation in white wines that this wine actually ages well. Priced ~$23, we think it's worth going into splurge mode. 13% alc.


 

Sauvignon "Braida Santa Cecilia" 2016 DOC Friuli Grave. Made with 100% Sauvignon A3 clone, this pale yellow white wine takes its name from the Italian meaning "clearing in the forest," which describes the weather conditions in the northeastern area where they can grow this grape. Unlike the New Zealand Sauvignon blanc – which some Italians describe as smelling like a sweaty sock – the passionfruit, sage and yellow pepper nose of this wine compares more to a Sancerre. This wine is made by Kim Crawford's husband, who excused himself from making the "Kim Crawford" type of Sauvignon to go renegade a

nd make a new kind of Sauvignon. H

e calls his highly award-winning winery Pitars so as not to confuse people with the Crawford name. We give his version a solid 5 stars. 12.5% alc.