When
Keystone Meats
asked us to review a sample of their products, we were skeptical. Because, yes, it sounds funny to a foodie to think in terms of using canned protein (well, except tuna), but we took a chance and were pleasantly surprised.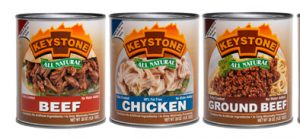 Keystone makes and sells all-natural chicken and beef (and more) in cans that come in 14.5 ounces or 28 ounces, and we were impressed to see that the only ingredients are beef or chicken and sea salt. Contrary to our fears,  the chicken did not taste dry. It tasted more than satisfactory in the chicken fajitas recipe we selected – the one on the back of the can seemed like too much chicken and not enough vegetables for our preferences.
We season our chicken fajitas and peppers and onions with Greek low-fat yogurt instead of sour cream – works really well – and some salsa and fresh tomatoes. It was pretty darn good. And we only used two thirds of the can for four servings. So we're talking about a lot of bang for your buck.
The recipe for quick and easy pot roast on the back of the beef can looks tasty and certainly easy. Using one of these instant-protein options could be a lifesaver for a busy person who's starving and doesn't want to order high-sodium takeout food. Because another nice thing about these canned meat products is the low sodium content – only 120 mg in a serving. Plus a serving of 2 ounces is only 70 calories for the beef and 60 for the chicken.
When you open the chicken there is a lot of liquid, and we started at first to pour it out. But then we realized it had to be juices from the the cooking process because the can says no water added. It also says no artificial ingredients and only minimally processed. So if you would be happy to have a reasonably priced, not-too-processed and tasty meat or chicken on hand, ready at any moment, without worrying about refrigerator or freezer space – handy, too, for camping or trekking – these Keystone canned meat products fit the bill pretty well. They make soup bases and canned broths, too. Review the entire product range online at
Keystone Meats
.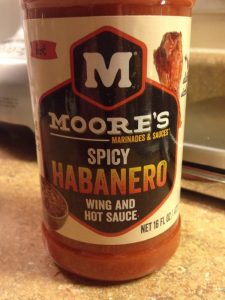 Meanwhile, Moore's Marinades & Sauces makes a whole group of sauces you can use to spice up your cooking. They sent us a sample of their new Spicy Habanero Wing and Hot Sauce. When we used it as extra seasoning on the above chicken fajitas, it overpowered the multi-layered fajita spice combination. Yet its strongly tart, vinegary taste would be great on wings to zing the meat and cut through the fat. FYI, sometimes vinegar is the first ingredient in hot sauces, but in Moore's Habanero it's water first, peppers second and next come vinegar and salt.
Moore's also has some recipes on their website that look worth trying. The Southwestern soup made with this Habanero sauce, for example, sounds good. Some of the recipes made with their Ranch sauce look particularly appealing. The marinades and sauces come in 16-ounce bottles and are available online and in 
select retail outlets like Walmart
.