Champagne makers and bubbly makers everywhere are really happy that many of us Americans have begun picking up on the French and European practice of drinking bubbles for every day pleasure instead of reserving those delightful champagnes and sparkling wines just for special occasions. Today we're featuring three expressions from the caves of Gloria Ferrer priced in the $20-$30 range, any one of which will make you and your guests beam with pleasure as you pair the wine with some of your favorite foods.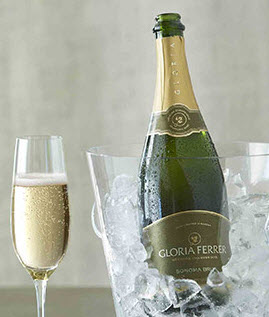 Gloria Ferrer, for 600 years a world renowned maker of sparkling and still wines with a history of female leadership, makes multiple expressions of bubblies that combine Pinot Noir and Chardonnay grapes in quite different proportions. Gloria Ferrer's Sonoma Brut, for example, is made with 86.5% Pinot Noir and 13.5% Chardonnay. The finished wine shows off delicate pear and floral notes backed by toasty almond. On your tongue, you'll find lively citrus, toast and apple flavors along with a persistent effervescence, a creamy mid-palate and a toasty finish. Pair this lovely bubbly with shellfish, crab, roast chicken or sushi. Seasoning affinities include lemongrass, fennel and white pepper. Serve with hard aged and triple-cream cheeses, maybe with some Meyer lemon compote to round out the cheese course. Alc 12.5% SRP $22.
Gloria Ferrer's Blanc de Noirs is 91.6% Pinot Noir and 8.4% Chardonnay. It serves up bright strawberry and black cherry aromas with subtle vanilla highlights. Creamy cherry, lemon and cola flavors combined come with a lush palate, lively bubbles and a persistent finish. This wine is outstanding with crab, Thai cuisine, roast pork, quail, foie gras and with semi-sweet desserts. Seasoning affinities include star anise, plum sauce and tarragon. Try pairing it with your cheese course with a triple aged Gouda or other hard aged cheeses with persimmons and hazelnuts. Alc 12.5% SRP $22.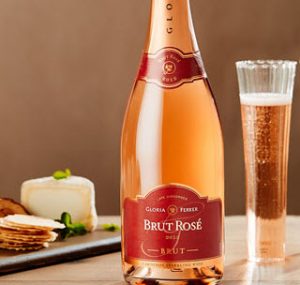 Gloria Ferrer's Brut Rosé is an especially lovely rendition of bubbly. Made with 60% Pinot noir and 40% Chardonnay, it has bright strawberry and Ridge aromas followed by notes of crème brûlée, Meyer lemon and green apple. It feels like a creamy mousse and keeps giving you fruit all the way to the finish where you get a touch of mineral. Pair this lovely wine with anything spicy,  Asian inspired dishes, barbecue pork ribs or grilled seafood. This rosé is outstanding with many varieties of goat cheese served with olives and herbed nuts. Only 2000 cases produced. Alc 12.5% SRP $29. We really love this delicate and delicious bubbly!