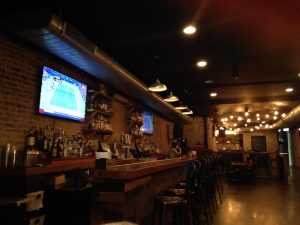 Known for its late-night drinks and menu that make it a popular haven for late-hour denizens of Division Avenue, the recently opened Bourbon on Division restaurant and bar offers a small collection of creative interpretations of Southern-influenced dishes for dinner from 5pm onward, a selection of hand-craft cocktails (many bourbon-based) and a respectable rotating list of bourbons available as either 1.5 or 2-ounce pours ranging in price from $7 to $27. The food menu varies, too, depending on what's available.
The late-night menu features lots of stomach-filling items – cheese curds, "sloppy" fries with white cheddar Mornay sauce and pork belly, smoked wings (delicious), fried shrimp and fries, chicken barbecue in white sauce with pickles on a brioche bun $11. The burger comes loaded with Dijon, mayo, cheddar, red onion and house pickles. $8. Beef it up with an extra patty for another $4. The bar's open until 4am and the kitchen until 2am.
And there are plenty of compelling reasons to come in earlier, namely for delicious dishes you can't get on the late-night menu. Let's start with dessert for the heck of it. Pecan pie is just what you think and served with bourbon whip cream. Fruit cobbler very tasty – baked in a tiny skillet with brown sugar streusel and an ovoid of caramel ice cream on top $6 – very tasty. The mint julep Creme Brûlée comes in a huge serving with the sugar crust you expect, except with a different kind of filling – like a mint julep pudding underneath for $7. The chef said he's still experimenting with this one. The spicy chocolate meringue pie sounded fabulous – cinnamon meringue on a spicy chocolate custard nestled in the house-made crust and served with Berry Coulis. $8. We didn't get to try this but want to, soon.
From the main menu we first tried the smoked chicken wings ($9). A generous serving of fried-but-not-breaded wings came with a sweet pepper jelly that made a wonderful sauce and with crispy black-eyed peas and garlic chips for a nice crunchy contrast. The carrot salad ($7) features a big heap of shaved smoked carrots mixed with arugula, pistachios and honey lemon vinaigrette, all generously sprinkled with pickled mustard seeds – the whole combo a serious high-nutrition/flavor winner.
The grilled salmon trout (pinker than regular brook trout) was cooked to tender, juicy perfection – the thing was served practically smoking hot and yes, literally, the juices were running from the fish onto the plate – and the roasted spaghetti squash that came with it was succulent and sweet, just browned enough from the roasting. We took a chance on this dish, because neither one of us had had a positive experience with spaghetti squash in the past, but this version was a definite 5-star, as was the entire dish. Absolutely worth the $18 price.
My companion had the chicken and dumplings ($16) which consisted of juicy beer-braised chicken, herbed dumplings frosted with a white cheddar Mornay sauce, pea puree and shaved vegetables. She was particularly pleased that the dish contained dark meat, her favorite. $16.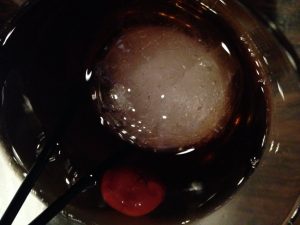 Cocktails are made with care and flare. A few to consider: Methuen's Bargain ($14, gin based from Ireland), the Black Rob (Scotch based – we loved the hand-made spherical ice cube!), the Sippin' on Gin and Cider ($12), and the Midnight Campfire (bourbon combined with DiSaronno and other goodies $13). Unique combinations of flavors worth trying. Big list of bourbons, not surprising given the restaurant name, and a nicely curated list of higher quality wines. Prices for wine by the glass range from $8 to $16, so you can choose from a good variety. The restaurant also offers brunch on Saturdays and Sundays from 11 to 5pm.
Our server, Gigi, is well on her way to becoming a full-fledged wine sommelier as well as a whisk(e)y sommelier. She gave us lots of good information and guidance on the menu and the drinks. We were there at 5pm on a Thursday, just as the place opened and were lucky to have her full attention. Eclectic music selections – from bluegrass to country rap and country hard rock – made a lively background. Don't expect Beethoven here, but do expect good food and interesting drinks.