[N.B. Despite an expected reopen in mid-June, the new location has not yet opened its doors. Keep checking their website or call them at (773) 935-2583.) 
The brand new Blue Door Farmstand location at 2010 N. Halsted features two stories and double the square footage—meaning more seating and a better flow of service. At dinner the upstairs atrium turns into full service with reservations, while the downstairs café remains loyal to the original counter service format.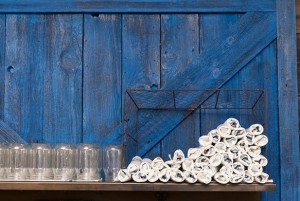 A larger kitchen allows for an expanded menu—still dictated by the seasons—plus weekend brunch. Get your wish at the new full bar with cocktails featuring Harvest Juicery cold pressed juices and locally distilled spirits and craft beers. Now you can take home sandwich breads, baguettes, bread loaves, muffins and scones, cookies, brownies and more from the new full bakery.