Are your friends always asking you to mix the cocktails at parties? Are you the one they call on for new and exciting cocktail ideas? Thanks to the House of Bombay, you've got a brand new taste in gin to play with.
Bombay Sapphire has been around f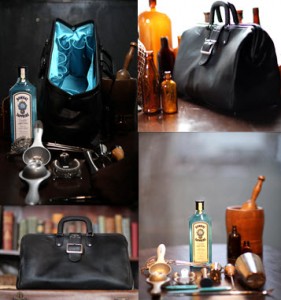 or 25 years as a superpremium London Dry Gin choice. But now comes Bombay Sapphire East, just being introduced in the U.S. It favors the flavors of Asia – infused with crisp Thai lemongrass and spicy Vietnamese Black Peppercorns. I made myself a Gin & Tonic with it the other day and was astonished at how exotic and refreshing it tasted.
And while you're at it, here's an idea on how to become a modern-day Paladin – have bar bag, will travel. If you're in the market for a showy, classy set of bar tools you can transport as needed, check out the Barking Irons Bartending Bag ($495). It was inspired by Bombay Sapphire and features that trademark blue bottle color in the waxed lining.
Just for fun, try these classic cocktail recipes using this unusual new gin.
Gin & Tonic Reimagined
1 ½ oz Bombay Sapphire East Gin
3 oz Fevertree tonic
Lime wedge (or lemongrass, juniper, coriander, or cassia bark)
Method: Press lemongrass stem and lime wedge into base of an old-fashioned glass. Fill with ice and build. Garnish: Lime wedge, lemongrass stem
Sapphire Peppered Peach Tea Collins
1 ½ oz. Bombay Sapphire Gin
¾ oz. Fresh Lemon Juice
½ oz. Simple Syrup
1 ½ oz. Peach Iced Tea
Pinch of Black Pepper
Club Soda
Build with ice in a Collins/Highball glass. Top with club soda. Garnish with peach slice and lemon twist.
Bombay Negroni
1 part Campari
1 part Bombay Sapphire
1 part MARTINI Gran Lusso
Stir the ingredients over ice. Strain into a lowball glass with a large chunk of ice. Garnish with an orange slices.
Related articles