New players in the huge beverage market are out there contending for our drink dollars and responding to the public's deep desires for 1) convenience, 2) organic and natural, and 3) healthy alternatives to soda pop. We don't include plain bottled water 'cuz we worry a lot about companies siphoning water from natural springs that already belong to the people – and charging us for processing it and putting it in bottles. Doesn't sound like a pyramid scheme at all, right? So here are a few new items worth a try: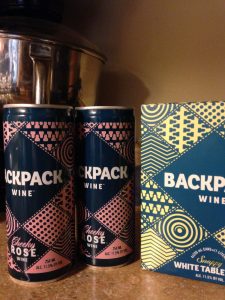 Backpack canned wine. You've heard of boxed wine, of course, and a number of makers are putting out some excellent quality in that formerly-scorned-but-becoming-more-popular packaging. Now comes wine in a can. Backpack Wines, based here in Chicago, recently put out two blend varieties: Cheek Rosè® and Snappy White®, in four-can packs. Made with grapes from quality vineyards, the wines come in recyclable cans you can take anywhere with the same convenience you get from canned beer or soda. We're not talking luxury wines here, but the taste is reasonable and the convenience unbeatable. Chill a few cans for your next barbecue, picnic, beach outing – or just sip one with a friend sittin' on the patio on a summer evening (yes, summer is going to hit with a vengeaance any minute).

Prairie organic spirits. Another new player in the alcoholic beverages category is the line of Prairie organic Spirits. "Made with respect from seed to glass," Prairie Organic Spirits offers 100% certified organic vodka, made from a single-sourced, organic corn grown on a handful family-owned and operated Minnesota farms. Each bottle of Prairie Organic Spirits takes three years of meticulous work. The Cucumber version we sampled gives off lovely and unmistakable aromas of fresh cucumbers. Immediately upon opening the bottle we imagined making our favorite chilled gazpacho or Bloody Mary recipe spiked with this pure, unadulterated spirit. It's also great as a mixer with flavored sparkling water or in your favorite cocktail. Without question will increase the aromatic intensity of whatever you use it in.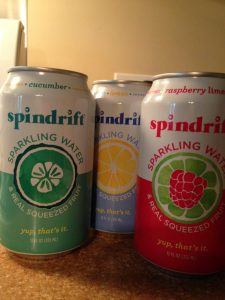 Spindrift fresh-squeezed-fruit-flavored sparkling water. It's always important to stay hydrated, but it can be problematic if you don't enjoy plain water. And there's some evidence that neither sugar nor artificial sweeteners are very healthy, so here's a new option: sparkling water made with real fruit. Spindrift is the only bubbly that uses real fruit to flavor its water. It's refreshing on its own or a great mixer for summer cocktails. These waters are flavored only with 100% organically grown fruit – juice and purée. We love the fruit aromas and the bubbles of all the flavors. Now imagine topping up a shot of Prairie cucumber vodka (above) with ice and a few ounces of cucumber Spindriftr sparkling water – and top it with a spring of mint. Hard to get more refreshing than that. Comes in blackberry, cucumber, grapefruit, orange mango, lemon and – our favorite so far – raspberry lime.