The folks at 
312 Chicago
 know how to cook, for sure, but they also have a sense of humor. They've just spent the month of March celebrating their 18th birthday with a special "Get Smoked" 3-course prix fixe dinner for $18.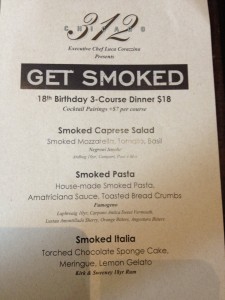 When I asked our server why the "get smoked" thing, he said, "Well, Chicago used to have a law that you couldn't smoke until you were 18. So we decided since we were turning 18 we'd get smoked! Alas, Chicago changed the law just a couple of weeks ago to say that you can't smoke now in Chicago until you're 21." We all agreed, then, that customers can likely expect another fun opportunity like this again three years from now…
The wines on their list lean towards the Northern Italian, as does the food, so we asked our server to recommend for us. We were pleased with the suggested 
Cannonau di Sardegna D.O.C. Riserva
. Hearty enough to go with the appetizer and the pasta courses, but not so strong as to overwhelm. According to one wine writer in "The World's Best Wine under $25," it "emphasizes ethereal, perfumed aromatics rather than an overt expression of fruit." Well, okay!
They did a fabulous job with their "get smoked" menu. Starting with a dish of hot, melty soft, creamy, smoked house-made mozzarella served atop two lightly cooked, peeled slices of delicious fresh-tasting tomato and accompanied by ribbons of fresh, fragrant basil.
Next up was a dish of their house-made fettuccine – tender, delicate and delicious wide noodles – coated with just the right amount of tomato-y Ameritriciana sauce and studded with bits of fried pancetta, and seasoned with a touch of red pepper flakes. Perfect spice. Perfect pasta. Perfect combination. The serving was generous, and the leftovers were delicious again a couple of days later served with sautéed scallops and steamed greens. Mm-mm.
We were pleasantly surprised when we cut into the third course dessert, "torched chocolate cake with lemon gelato," a light yet rich-tasting layered confection topped with browned (smoked) meringue that hit just the right note after the meal. The gelato was especially tasty and the caramel sauce was just icing under the cake.
And then came, compliments of the house, little après-dinner glasses of their house-made Limoncello. Thick and lemony and sweet and a lovely ending to a fresh and pleasant meal. Although the restaurant no longer does regular wine dinners, they are introducing a new feature this year. They will have a bartender serving drinks out on the patio (weather permitting, of course) all summer. The restaurant, attached to the Hotel Allegro, is situated at the corner of LaSalle and Randolph, across from the Townsend Center, so if you're going to be that area, don't miss the opportunity to enjoy their food and drink in a comfortable yet elegant atmosphere.