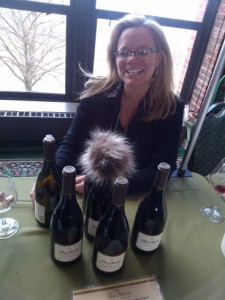 I'm excited that Pinot Days 2014 is coming to Chicago again – I really enjoyed the wines I tasted in 2013.  Mark your calendar now for April 26 at Navy Pier, from 2 to 5 pm. Believe it or not, this winter will be over before we know it! The festival goes on for days before that party – with Winemaker Dinners, "Meet the Winemaker" pinot and food pairings at local wine bars and restaurants, and tastings at boutique retail stores.
This year more than 50 wineries will come to Chicago to "paint the town pinot." Then, it all culminates with the Grand Festival at beautiful Navy Pier. To help you get an idea of what you can look forward to at Pinot Days festival 2014, here are some notes from what I experienced at the Pinot Days 2013.
Lucky for me, I have an oenophile son-in-law. I mean this is a guy who actually absorbs what he reads in Wine Spectator. So I emailed him the list of wineries that would be represented and he made some picks. As a result of his educated suggestions, I'd say this was one of the best wine tastings I can remember. Of course I ended up tasting several wines that were so high-end I had to bend at the knees to hoist the price tags. But hey, what better way to get to know these beauties!
Pinot Days Chicago 2013 was packed with celebrity wineries. From bubblies to deep, dark reds, from high-end beauties for $60 and $75 a bottle to more affordable reserves, the selection was huge, the wine-pourers friendly, and the atmosphere relaxed. More notes from Pinot Days Chicago 2013: My 5-star pick: Miner Family 2011 "777" Rosella ($75). Some of my 4-star picks:
And here are a few of the other memorable pinot noir tastes available at last year's Pinot Days: