Time to think about some spirits to uplift yours! Here are some news notes from three such companies: Rush Creek Distilling is a local distiller that's just generally lifting spirits around town and for buyers online. Maker's Mark is uplifting the spirits of sports/Chicago/Cubs fans and bourbon lovers across the land. and Bacardi is uplifting the spirits of women – and that spreads to everyone! Consider lifting yours with a few of these.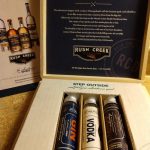 Rush Creek Distilling makes small batch releases of really nice vodka, gin and whiskey. The company is located in Harvard, Illinois, so it's a kissing-cousin Chicago institution. The vodka and gin are both distilled from grain, so the flavor is unique. The American Gold and the Trophy whiskies are lovingly, slowly distilled. All the Rush Creek spirits are made using pure spring water and local grains. Plus, the distillery sounds like a beautiful and unique place to visit – artisan-designed and built to exemplify the spirit of craftsmanship. Book a tour and make a little vacation of it. They love to promote a spirit of adventure – even have an Adventurous Spirits Club you can join.
Recently Chicago welcomed Rob Samuels, grandson of the founder of the iconic bourbon Maker's Mark, as he celebrated his company's partnership with the Cubs. He met with media, Cubs people, club owners, and others as part of inaugurating the new Maker's Mark Barrel Room, one of the private clubs for season ticket holders that's opening in Wrigley Field this season. He highlighted key points in the history of Maker's Mark, including how Bill Samuels, Sr. used to bake bread – and translated some of what he knew there into the beginnings of the famous bourbon. He also invites everyone to make a reservation at Star Hill Provisions, the on-Kentucky-campus full service restaurant and bar, with Chef Newman Miller offers authentic local cuisine with locally sourced ingredients – some coming from distillery employees' own farms. There you can learn more about the deep and proud connection between horse racing and bourbon and about out how dramatically bourbon has increased in popularity in just the past decade.
Bacardi, one of the country's premier spirits makers, kicked off its second annual Spirit Forward Women Empowerment Series April 1st in Chicago. Now they're on the way to LA (April 23), then New York.  Experts from hospitality, fitness, finance and entertainment will celebrate female leaders and entrepreneurs, especially the hospitality industry. Attendees will learn from panels, networking opportunities, hands-on workshops and more, designed for all genders, race, cultures and geographies. The theme this year is "originality," and high-level industry speakers will address how it informs everything from the creative process to problem-solving bigger issues in the hospitality industry.