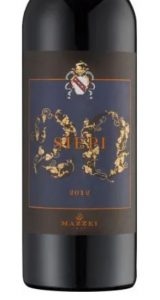 Luxury wines are in a category outside the experience of the average person in America, and perhaps in most countries. Chicago did get a chance back in 2021 to taste a few of these elegant wines, thanks to Palm Bay importers. Winemaker Francesco Mazzei brought some of his Siepi winery's Chianti Classico treasures here to Chicago. The vertical tasting, with vintages from 2005 through 2012, was a remarkable experience..And I started this blog post a long time ago and never finished. So even though Acadia (see below) is closed, these wonderful wines are still worth writing about.
All the Siepi vintages were made with Merlot and Sangiovese grapes, yet all were different. He said Merlot is bigger than Sangiovese and produces less acid, but growing in the Chianti region of Tuscany it acquires the character of Chianti. He talked about the season and the harvest for each of the Siepi vintages – fascinating stories of battling frost, drought, storms and global warming rising temperatures.
Francesco said Mazzei's farming is 99% organic because conditions naturally permit that, and their bigger concern is using sustainable growing practices. "It is about trust," he said, "and respecting nature. Wines are moody." Time and oxygen change wines as they age and, in Siepi's case, makes for wonderful results. He said in a way, it's unfair to compare vintages to each other since that is not the way people traditionally enjoy wine.
He also pointed out the difference between an intellectual versus a physiological appreciation of wine. Perhaps saying, in effect, people are moody, too. How and where and under what circumstances you taste a wine can have a powerful effect on how you perceive it.
The venue for the tasting was the former two-Michelin-starred Acadia Restaurant, 1629 S. Wabash, now closed, in an out-of-the-way area of South Loop.  I remember how remarkable the setting was: Flower boxes on stands marked the site of the restaurant (dinner-only service Tuesday through Sunday) on the otherwise-semi-empty street. Not promising, but once inside, you basked in the rich but sleek-and-simple decor. The cuisine, paired with three additional non-Siepi wines from Mazzei, was a delightful surprise. Sad to know this restaurant gem is no longer with us.
The green garlic/ramp soup was delicately flavorful, rich and creamy and served with flowers and flourish. Tasting the perfectly cooked farm egg yolk as it spilled over the truffled crispy potato basket was a distinct pleasure.  The wines paired beautifully with the dishes, and the service was unobtrusively excellent.
Read more about all the Siepi vintages here. Read about the many other Mazzei wines here, some as affordable as $15 (e.g., Belguardo Rose 2015 – light and easy to drink).
A couple of the standout Siepi vintages include:
Siepi 2007 – an outstanding vintage that produced excellent quality grapes, well-balanced with soft tannins and concentrated antioxidants and anothcyanins (which contribute to color and stability in a wine – good for aging).
Siepi 2011 – a difficult year with good rainfall but extreme heat and sun. Even the oak leaves were turning from green to brown in the summer.  The fight they put up ended up producing a lovely wine.
Siepi 2012 –  a challenging year with late frost and snow and a dry summer. Production overall was down by nearly 30%, but the quality is high with just a touch of sweetness. This is a good one to age if you have a cellar.