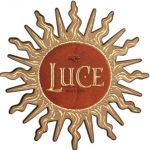 Luce della Vite Montalcino is the name given to the providential partnership put together back in the '90s between Frescobaldi and Robert Mondavi wineries – across the sea from each other, and each home to some of the world's most highly praised wines. These two master winemakers joined together and decided to ignore the DOC/DOCG regulations and create their own magic. The resulting Luce della Vite wines are remarkably elegant and refined, each bottle emblazoned with the fiery gold sun logo that is a modern rendition of the sun design chosen by Margot Mondavi from the emblem on the front of the altar in the ancient church built for the Frescobaldi family in 1493.
Luce della Vite wines must be made with Sangiovese grapes, either alone or with Merlot. The Sangiovese grapes grow in the flinty soils at higher altitudes of the estates and the Merlot grapes thrive in the lower areas in soil that's a special clay mixed with volcanic ash. Unlike many other wines, Luce wines are blended before being put into barrels so that their flavors can be fully integrated during aging. The wines have been such a success that in 2017 Luce will be launching its own separate winery.
Luce della Vite 1994
, Merlot & Sangiovese – Only the second vintage to be made, this blend of Sangiovese and Merlot has a deep ruby ink color – bright, aromatic and highly extracted flavors display notes of raspberries, spices, violets and dried herbs. Complex nuances of roasted mocha and vanilla linger in the background. Elegant in structure with fine, well-balanced tannins and a long finish. Despite its low acid, its greatest potential will come with proper aging.
Luce della Vite 1999
, Sangiovese & Merlot – This year was a particularly good harvest in Tuscany and especially in Montalcino. Wines from this vintage are delicate and refined with silky tannins and low acidities, but enough structure that they can age for many years. Luce 1999 is a dense ruby color with ripe aromas of dried plum and blackberry and hints of tobacco leaf, tanned leather, cinnamon and clove. Well-integrated tannins support the aromas and blend into a velvet-smooth savory and herbaceous wine that happens to be one of proprietor Lamberto Frescobaldi's favorites.
Luce della Vite 2012, Sangiovese & Merlot – Almost ideal weather conditions after heavy spring rains brought this vintage to a 5-star completion. Dark ruby in color, it offers a forceful, complex and rich bouquet of remarkable depth with notes of wild blackberry and blackcurrants, with delicate hints of spicy clove and black pepper in the background and additional impressions of black licorice and balsam to complete the profile. This is a full-bodied wine with ripe tannins that yield velvety softness in the mouth, accompanied by a trailing aromatic expression with a hint of smokiness throughout its lengthy finish.
Luce della Vite 2013
, Sangiovese & Merlot – Just released, the color of this wine is intense and impenetrable, the bouquet elegant and complex. Vibrant aromas include cherries and raspberries with spiced notes and delicate floral undertones. Well-balanced and fresh with persistent aromas, the tannins are silky and refined with a well-defined the structure and no sharpness at all.
The following Luce wines are made bear the luxury Italian designation Brunello (which may partly explain why Lamberto Frescobaldi named his dog Brunello – read his interview
here
).