Some who have been able to work from home during this long-running pandemic may be saving enough money to be able to treat themselves to some luxurious wines they might never have considered. And I can't think of a more luxurious treat than one of these 2018 Dutton-Goldfield Pinot Noir wines.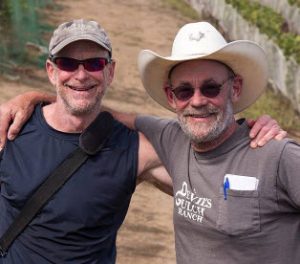 Dutton-Goldfield's vineyards, many with intriguing names, promise excitement and quality that their elegant luxury wines always meet and surpass. As of 2018 they're in their own new facility and now have complete control over every aspect of the production of their wines – and the 2018 harvest had no pandemic issues. In the new facility, the winemakers now get to select the best possible picking dates when they're confident the acids and sugars are at their absolute optimum balance. We consumers are the winners in being able to choose from their selection of 2018 wines that showcase a fabulous combination of mouthwatering freshness and decadent richness. Prepare to be utterly delighted by any one of these. This post showcases just five of them for your special-occasion, friendsgiving, or self-indulgent consideration.
Devil's Gulch Vineyard, 2018 Pinot Noir. Located in Marin County, this vineyard has put out a gorgeous Pinot that's extraordinarily silky and velvety with "fruit and spice characters" that have a "wonderful combination of power and fineness," a nose with "sweet wild berries in the forest, tinged with nutmeg and cinnamon." Isn't your mouth watering? You don't need to wait until the holidays to indulge yourself with this 5-star beauty. Think pairings like rabbit, pork, lamb or quail (bacon-stuffed mushrooms, anyone?). Thank you, winemaker Dan Goldfield. Alc. 13.8% SRP ~$72.
Angel Camp Vineyard, 2018 Pinot Noir. Situated ini Anderson Valley, this beautiful 10-acre spot sits on a scenic knoll with a gravely slope that lets winemaker Dan Goldfield extract deep, plummy flavors and voluptuous tannins from the grapes. Consider the joy of "dusky blackberry and plum aromas complemented with savory beet and earthy notes. Christmas spices provide a lacy framework" for the harmonious balance of sweet black cherry, purple plum, dried flowers and sandalwood flavors. Enjoy it now or let it mellow. You'll love it with warm potato salad, bacon quiche, poultry or pork and cheeses like Fontina or Havarti. Alc. 14.1% SRP ~$62.
Fox Den Vineyard, 2018 Pinot Noir. Perched atop a formerly-sea-bottom ridge, Fox Den sits on eight acres in the Green Valley of Russian River Valley and has a terroir that makes for low vigor vines, slow ripening, and beautifully floral and fruit driven wine. The long growing season of 2018 encouraged these vines to produce a satiny texture and a nose of red fruits with sweet raspberry and strawberry interlaced with baking spices. In the mouth you get a sweet-tart interplay that dances from Bing cherry to dried cranberry to alpine strawberry with a drift of cinnamon and nutmeg. Think pairings with duck confit, seared tuna, and pulled pork or sweetbreads. Creamy goat cheese, Kaseri or Bellwether's triple crème San Andreas will sing with this wine. Alc. 13.8% SRP ~$68.
Enjoy with a special meal you've prepared. Or a few of the decadent cheeses mentioned. With friends on Zoom, or just by yourself.