It's fun to experiment for special occasions, and I couldn't resist this charming holiday-colored version of the martini. The Bombay Sapphire version of gin – made with juniper berries from Tuscany forgodssakes – gives it an extra depth of flavor. Hope you have a fabulous Thanksgiving.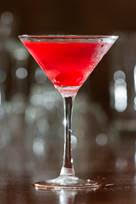 Yuletide Martini
 2 oz Bombay Sapphire
2 tsp Cranberry Sauce
.25 oz dry curaçao
.25 oz cinnamon syrup
1 dash five spice bitters (Bar Keep)
"The Martini was called 'the only American invention as perfect as the sonnet' by H.L. Menken. and, although the classic recipe involves only gin and vermouth, in the American spirit of invention, the cocktail can be experimented with to no end. In light of the holidays, The Yuletide Martini takes inspiration from some of the brighter flavors of the holidays, and incorporates cranberry, orange and spices to evoke the feeling of holiday spirit. E.B. White called the martini the 'elixir of quietude,' and this martini is meant to be just that: a quiet moment to be found in the hectic rush of the holiday season. Cheers." – Created by Bombay Sapphire Denver's Most Imaginative Bartender Winner, Tacy Rowland of Bol in Denver.
Related articles