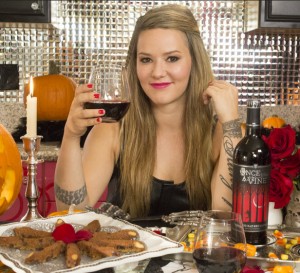 Nadia G., the popular Food Network show host, was writing comedy at an early age, has moved up fast in the world of TV and happily offers her own take on how to "do" Halloween right. Following are her top party ideas and Halloween recipes that will make your party the hot spot Halloween favorite.
Try decorating your buffet with genuine old stuff – like broken dolls you find at a thrift store. Headless,  armless, blackened eyes, whatever.
Present your party spread on a bloodstained tablecloth! Get your hands on a white sheet and have some gruesome fun staining it with theatrical blood handprints and splatters!
Lighting is everything, so replace your crummy lightbulbs with red ones, and light lots of black candles to create a spooky (and sexy) ambiance.
Fill a surgical glove with water and freeze, use this creepy

Nadia's "severed hand" looks great in a Witches Brew cocktail punch – See recipe below

"severed hand" to cool your punch bowl!

Stay away from generic "scary" props like cheesy spiderwebs.
Try: blood red roses, mice, pictures of Phil Spector… Use your imagination!
Finished planning your party and playlist? Try making some  of Nadia's coffin-shaped grilled cheese sandwiches for the buffet. And then check out all her other 

Spooky Recipes!
Find out more about celebrity chef Nadia G.
And here's where to buy cool Halloween costumes.
BUT, if you're just not in the mood to throw your own bash, here are a few tips for outside Halloween fun in Chicago:
From pub crawls to boat cruises or just regular Halloween parties at bars, check out EventBrite's listing.
Consider the masks-mandatory (you can buy one at the door) upscale Halloween bash going on at the just-opened River North SHAY nightclub, 222 W. Ontario.
Bar Takito, 201 N. Morgan St. (at Lake) in the West Loop celebrates Halloween. Special $5 menu including $5 margaritas and food items will be available to any guest wearing a costume on

Friday, October 31 and Saturday, November 1

. Try their Sangre Del Toro (or "Blood of the Bull") cocktail.
Newport Bar & Grill, 1344 W. Newport in Lakeview, hosts a Halloween costume party Friday October 31. A $500 cash prize for the "Best Group Costume" – $200 cash for "Best Individual Costume". The bar will feature a live DJ all night long and offer $4 Craft Drafts, $4 Fireball shots, $5 Three Olive cocktails and $5 Bacardi bombs. An optional $20 package will be available from 

9 p.m. – 12 a.m.

Masked Halloween wine tasting –  Taste eight different varietals and wine a prize for guessing the most correct. WineBar at Plum Market, Inside Plum Market Old Town, 1233 N. Wells St.
Quartino Ristorante & Wine Bar, 626 N. State St., is putting on its traditional Halloween Wine Bash on Thursday, October 30, 7 to 9 pm. $25 gets you a selection of beer, wine and delicious Italian-with-the-Quartino-touch fare, along with music and (of course) a Halloween costume contest!
Bar on Buena, 910 W. Buena, EVIL TWIN DEVIL'S NIGHT EVIL COSTUME BASH on Thursday, October 30th (Devil's Night!). 7pm – til ?? – a night of frightening flicks, macabre music, spooky spirits. Prizes for the most evil costumes include VIP Blackhawks tickets, BOB Gift Certificates, Beer Swag and more.

Chicago Q, 1160 N. Dearborn St., an upscale barbeque place with a gorgeous wood-paneled bar, gets in the Halloween spirit, this

October 31 with the 

Spooky q Potion cocktail ($12 – Bourbon, Cinnamon Simple Syrup and Apple Cider served on the rocks with a gummy worm garnish).
Plymouth Restaurant & Bar, 327 S. Plymouth Court,  on Friday, October 31, serves up a complimentary buffet full of Swamp Dip and Cheesy Freddy Fingers. Wash it down with Blue Moon pints for $4.00 and Pama Pomegranate Martinis for $5.00, and The Scary Night drink special for $5.00. Costumes encouraged.
*Spooky Halloween cocktails include Witches Brew punch:
Witches Brew
4 oz. Once Upon a Vine® Fairest Chardonnay
2 oz. Pear nectar
1 oz. Lime juice
.5 oz. Simple syrup
3 Sprigs of thyme
Directions: Shake ingredients in a cocktail shaker and strain into a chilled glass.