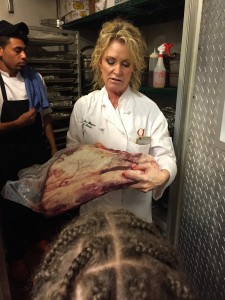 I was recently invited to sample new menu items at Chicago Q on a complimentary basis. I'm delighted to report my experience was exceptional in almost every way. Kyle, our server, gave attentive service that didn't overwhelm, and he was happy to share his extensive knowledge of the food. Plus, he told us a great story about how he came to work at Chicago q. Seems he worked at a nearby establishment when the manager there decided to take the employees out for a team-building lunch. It so happened the lunch was at Chicago q. Kyle was so impressed with the food and the place that within three weeks he jumped ship at the other place and came to work here.
I can see why. Almost everything we tasted here was not just delicious but also non-greasy (who gets to say that about barbeque ribs?) and exceptionally flavorful.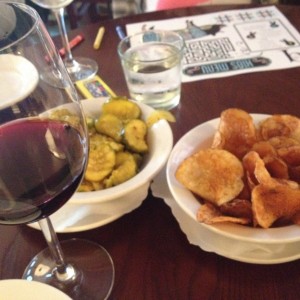 As soon as you sit down, your table gets a complimentary bowl of house-made sweet Bread and Butter pickles (we saw a vat of those marinating from scratch with garlic and onions) and another of their proudly Pig Powdered potato chips made in-house and flavored with the restaurant's signature rub, made from Chef Whippen's father's recipe from long ago. A smart tip from Kyle: These are delicious, addictive and filling, so control yourself! You do not want to miss out on experiencing some of the other delicious menu items.
New among the starters: Pork Belly Corn Dog (made with in-house brined and smoked pork belly), Pig Powder Fries, and Smoked Alligator Sausage (clove-y, gently spiced, tender, fall-apart meat inside a traditional sausage casing, served nestled in a bed of chunky Buttermilk Mashed Potatoes). The Select-a-Style sides are new: two bucks a side for your sandwich that include a choice of: Memphis style with coleslaw, house-made B&B pickles, and a mild barbeque sauce; or Chicago style with caramelized onions and peppers and American cheese; or Southern style with crispy bacon, a fried egg and American cheese.
Two massive Southern-style smokers in the kitchen give the royal rotation-smoking treatment to everything from ribs to pork belly to whole brined chickens (brining makes the breast come out just as juicy as the dark meat).
Other new items include the Steakhouse Wedge salad, sides of grilled vegetable skewers (crisp-cooked onion, pepper, zucchini), Elote Grilled Corn with herbs, Cotija cheese and chipotle sauce (maybe slightly overcooked but lovely to look at and very tasty). Other new dishes include Shrimp Brochettes (wrapped in bacon and stuffed with Monterey cheese and poblano peppers), and the CAB house-cut Ribeye. This is just the heart of the ribeye steak, cooked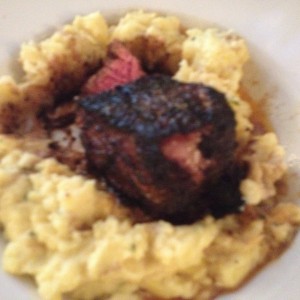 to your desired doneness inside a sugar-char-crust that makes a heavenly complement to the tender, juicy medallion of meat—served with house-made chunky Buttermilk Mashed Potatoes with the natural sweetness of good potato flavor and a tiny tang from the buttermilk. Don't know how they manage to get the crust so dark and crunchy and still have the meat come out medium rare. Meltingly delicious. Another new item is the Bourbon Vegetable Kebabs (grilled zucchini, mushrooms, red onion, green pepper and tomato with a Kentucky Bourbon glaze).
The macaroni and cheese sports a crispy Panko breadcrumb topping and a mix of cheeses enrobing the curly macaroni pasta. Kyle explained that the small order we asked for was not as cheesy as the full orders. Although we couldn't finish the skillet because of all the other excellent dishes we had, I sure enjoyed the hell out of the leftovers for breakfast the next morning. Plus you can get the Mac'n'Cheese Pitmaster style: mixed with your choice of bites of one or more of Baby Back Ribs, American Kobe Brisket Burnt Ends, Pulled Pork, Pulled Chicken, Bacon or Smoked Corn.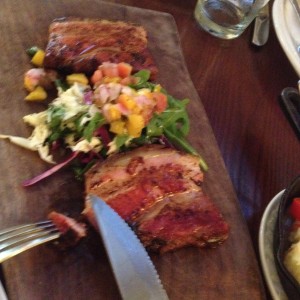 The Q Bacon appetizer takes a seriously thick hunk from the same spot on the pig that your grocery-store bacon comes from but then performs a small miracle with it. Think a quadruple-thick-sliced, maple-glazed chunk of smoked pork grilled on a super-hot charcoal grill. This is not your mother's bacon, people. The leftovers next day made a scrumptious dinner with a baked potato and steamed green beans.
Did I tell you Chef Lee Ann Whippen wears earrings with little dangling gold pigs? She grew up visiting a hog farm that one of her relatives owned, and she does not kid around about her love of all things pig.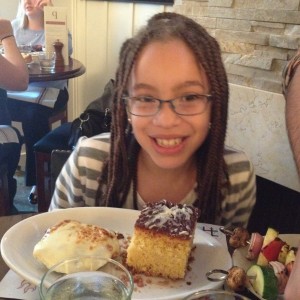 The Honey Butter Cornbread was a huge hit for us—and with our 8-year-old lunch companion, who by the way also inhaled her grilled hamburger—while the more savory version of the cornbread, Poblano Cheddar, promised to be equally rewarding. The Watermelon Feta Salad sounded appealingly refreshing. And then there was an intriguing list of other sides: Bruleed Mac'n'cheese, American Kobe Brisket Baked Beans, Red Bliss Potato Salad, and Braised Greens. Heck, you could make a satisfying meal just out of sides here.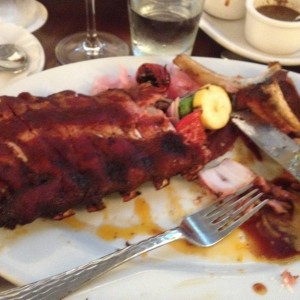 As for the ribs, we had to try the Chef's Competition Ribs (at $38 for a full slab a bit pricier than the regular ribs at $20/$29), but for good reason. The rub on Competition Ribs is bolder than the signature Pig Powder used on the regular ribs. The meat is cooked two hours longer at a lower temperature, plus the Chef adds other ingredients that make these ribs even tenderer and spicier. Chef Lee Ann Whippen wins competitions all over the country with this recipe. And it's clear why. Incredibly tender, sweet meat falls effortlessly away from the bone yet maintains a firm texture and an integrity that surpasses any we've tasted before. Thanks to Kyle's suggestion, I dipped this beautiful meat into a combination of the Kansas City spicy sauce mixed with a little of the mustard sauce. Perfection. Really. I rarely eat meat and never as much as I happily consumed at Chicago q that day.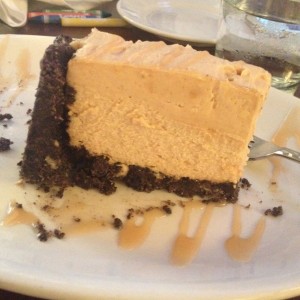 Oh, and the Chef insisted we save room for dessert and had us try a piece of her justly famous Peanut Butter Pie. A thick, firm crust made from Oreo cookies plus the filling formed the container for an exceptionally light-yet-rich filling made of undisclosed ingredients (maybe including cream cheese with fluffy beaten egg whites to lighten it?) whipped together and delicately flavored with peanut butter. We, I'm embarrassed to say, ate the whole thing.
All in all, this is a place I will definitely come back to and am already recommending unreservedly to friends and acquaintances. My companion, whose husband's ribs have been her total favorite for many years, insists she is bringing him back here with her ASAP (they live in Cleveland so it'll be a long way to come to learn that your ribs are no longer the fairest in the land).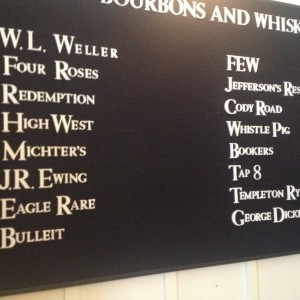 In fact, Chicago q is having a Woodford Reserve Bourbon Dinner this July 7. It's only $65, including cocktails, and my friend and I already have reservations. I don't even know the full menu yet, but I can almost guarantee, if you appreciate barbeque at all, you'll love it.
P.S. They have a cool upstairs for private parties and a BYOq (Build Your Own q) catering menu of all their specialties. And their weekend brunch sounds great with items like Carrot Cake Pancakes, Cheddar Chive Biscuits & Gravy and more. Saturdays and Sundays 10 to 3.