The restaurant industry has been hard hit by this pandemic. In Chicago, as in many other cities around the world, some have had to close permanently. Fortunately, enough people here are still able to get out and patronize the many restaurants that do remain open.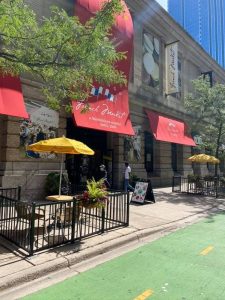 For Metra commuters and office workers who like to come to the city's beautiful indoor French Market, bad news and good news. In response to the current impacts of reduced traffic in the downtown area, some vendors at the Chicago French Market will enter a period of partial hibernation until March 1 of next year.
"A core group of our vendors at the Chicago French Market (131 N Clinton St, Chicago, IL 60661) will continue to operate throughout the winter months, including Saigon Sisters, Buen Apetito, Klay Oven Kitchen, Jokers Cajun Kitchen, A Taste of the Philippines and Cubano Bros , will continue to serve our customers and work together to provide our customers a varied and robust lunch service that will include options for dine in, carry out, curb side pick-up and delivery to the many residential and office buildings that surround our location, " says Leslie Cahill, Director of Operations and General Manager.
As more and more people return to work, the plan is "to be back in full operation on or before March 1, 2021 and to position the Chicago French Market to come roaring back to the same sold out capacity as we were before the shelter-in-place order was given," she said.