As we wine-lovers grow older, the muscles we use to open a nicely corked bottle of wine can get a little stiff and ache-y. Or maybe you're still young and you get frustrated with how hard some corks can be to get out of the bottle. Fortunately, there is an answer that doesn't require using an old-fashioned corkscrew or banging the bottle on a wall (with a shoe for cushioning) or inserting screws into the cork.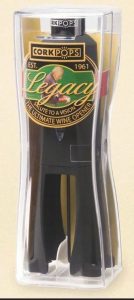 Now there's a device called CorkPops Legacy wine opener that lets you, after you learn how to use it, more easily perform the steps needed to get a cork out of a bottle without so much physical effort.
First, it neatly and efficiently slices around the foil. Easy. Nicely done. (FYI, in researching this post I saw a video that suggests you can get the foil off by just twisting and pulling it straight up and off. but this gadget makes it pretty simple to cut it. )
Next, you need to insert the device's long, thick needle into the center of the cork. Takes a bit of exertion but not bad.
Next you thumb the top of the device gently as you hold the bottle firmly in the other hand. Voila! Your cork is out immediately.
Lastly, you twist the device to eject the cork.
The cork came out with more force than I expected when I first started using it. You'll need to learn to modulate how much force you put on the gas canister.
And you also need to be sure you're putting the needle in at the proper depth – so its end is in the space between the wine and the cork. Too far in and the gas will escape into your wine – and your cartridge will run out quickly. Not far enough and it won't pop the cork out.
The Cork Pops Legacy sells for ~$34 and and is promised to open 50+ bottles. A pair of refill gas cartridges is available online for ~$15. It's a fun device that does the job. Your guests will be surprised and impressed. Just keep in mind, there's a learning curve.