Single malt Scotch whisky is one of the biggest stars in Scotland's firmament of distilled beverages, each one unique to the region in which it's distilled. Recently CRAIGELLACHIE showcased in Chicago the newest addition to the line of expressions from its Speyside distillery. [craig-el'la-key, or here's a fun video explaining how to pronounce CRAIGELLACHIE.]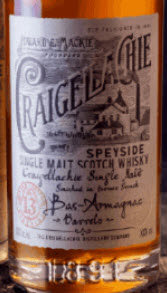 The CRAIGELLACHIE 13 Years Old Armagnac Cask Finish expression – given special complexity by its marriage with the Armagnac cask – is being released as part of the brand's Cask Collection. First matured in ex-Bourbon and ex-Sherry casks, it is then rested in Bas-Armagnac casks for just over a year, which is longer than the typical few months. This new expression, a beautiful  clear golden liquid, starts with smoky, toasted marshmallow, baked apples and cinnamon on the nose, then heads towards a slightly floral, pineapple-y finish. Try it straight. Then with an eye-dropper of water. Excellent in cocktails.
And, boy, do the CRAIGELLACHIE Scotch whisky expressions go great with barbeque! The brand ambassador Paul O'Callaghan (in an utterly charming Irish accent) offered them up in special whisky-tasting glasses as perfect accompaniments to the irresistibly rich and spicy barbeque creations of the chefs at Chicago q, 1160 N. Dearborn St. Creations like melt-in-your-mouth Cheddar-Bacon Hush Puppies (the bacon smoked in house), Smoked Corn & Black Bean Salad, along with generous slabs of brisket, pulled pork and ribs served with Honey Butter Cornbread, Buttermilk Mashed Potatoes, and house-made Mac 'n' Cheese. So worth the calories…
Others in the brand's core portfolio include CRAIGELLACHIE 13 Years Old, 17 Years Old and 23 Years Old. These whiskies are known in some quarters as "the bad boys of Scotch whisky." Kinda makes you feel like you're sneaking into a Scottish speakeasy, right?
More about CRAIGELLACHIE Single Malt Scotch Whisky
Described as "old-fashioned" even in 1891 when production began, CRAIGELLACHIE stays true to the traditions of founders Peter Mackie and Alexander Edward. Worm tubs (see * note below) are used to cool the spirit, bestowing extra flavor and creating a distinctive muscular character to rival whisky twice its age.
So if you like a little muscle on your Scotch, go taste some of these expressions. Pick your favorite and take home a bottle for your next barbeque – or just to sip by the fireside. 'Tis the season, after all.
* What is a worm tub?
A "Worm" is the old English term for serpent, the original name for the coiled copper tube used to turn spirit vapor back into liquid.
Only a handful of distilleries still use this old-fashioned method to condense their spirits. They are much more expensive to maintain than the more modern and efficient 'shell and tube' approach, but their long tubes provide less copper contact and thus bestow extra flavor with a distinctive, muscular (sulphuric) character.