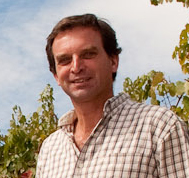 Interestingly, port wines often do not state vintage years. Instead, when a wine is particularly good one year, it is "declared" a vintage after it's been bottled. Because differences in weather are unpredictable every year, only great years can command a declaration. It is always an exercise in self-restraint for port winemakers to decide which years deserve to be declared.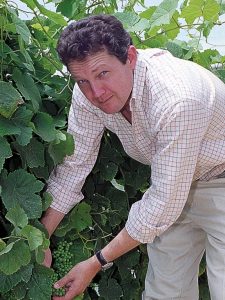 Some of the biggest names in port from the Douro Valley are all owned by the Symington Family Estates. Cousins Rupert and Charles Symington came to Chicago recently to introduce their exciting 2015 vintages and showcase a few of their older premium offerings.
 They brought four of their renowned name brands and presented the 2015 vintage along with carefully selected  older vintages of the same brand. It was a fascinating horizontal and vertical tasting exercise that highlighted the differences between young port wines and mature. It very clearly showed how aging in the bottle changes and deepens the complexity and flavor in a fine ruby port.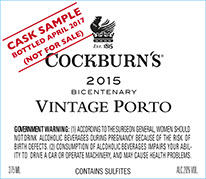 Our favorite among all was the Cockburn's 2015 Vintage Port, its bicentenary vintage. The Symingtons purchased Cockburn's from the  company that had been operating it since the family sold it in the 1950s – to the detriment, they believed, of the fine brand. "We wanted to bring back the spirit of Cockburn's," said Rupert. So they organized a tasting of some of the very oldest Cockburn's vintages – from 1912, 1920 and so on. They knew, then, what their goal would be to engineer the re-birth of the Cockburn excellence. Their 2015 has lush aromas and flavors of maraschino and black cherry that eventually turn into Kirsch-like flavors. Rupert described it as "tropical jungle." The 2011 vintage port is a perfect example of this super-refined structure and power of the Cockburn port profile: dark, brooding, powerful.
The Symingtons offered a couple of observations about grapes: Touriga Franca is like Merlot – softer, forgiving, aromatic. Cabernet is more like Touriga Nacional – dark and needs softening.
Port goes through three phases: 1) young, fresh and full of fruit flavor; 2) after 10 to 15 years the port starts to mature and begins to get that raisiny flavor; and 3) 20-30 years when the port loses some of its intense, deep color and becomes much more subtle as it approaches serious maturity.
Vintage port is made with extraordinary grapes. Then they add a colorless brandy with a 20% level of alcohol. The brandy gradually gets absorbed into the port and basically disappears, and then the wines darken up. A simple fact: it takes 7 liters of wine to make one liter of brandy– which is how they do it in Spain.
Graham's Stone Terraces Vintage Port 2015
was lovely. Made from tiny grapes, it has been declared a vintage. Shows very concentrated fruit and a pure expression on the nose. Slight tropical notes, Only 345 cases made.
Six Grapes is a Grahams brand of port
that uses the same grapes as Dow's port. When Dow's declares a vintage, the next best barrels go into Six Grapes bottles. When there is no declaration, the best grapes of all go into the Six Grapes brand. You get the finest quality at a much lower price with Graham's Six Grapes.
Their
Quinta do Vesuvio
winery does not declare – it bottles. The wines are velvety and sweeter with lots of fruit aromas. Sweetness makes it smoother on the palate. All Vesuvio vintages are trodden by foot. producers are so consistently exceptional that they simply call it a vintage almost every year.
Dow's rounded out the selection of pairs – themselves very nice, slightly drier wines. Quinta del Senhora da Ribeira has had almost ideal climate for growing port grapes. All their wines are velvety. Floral tones from the Touriga Franca, resin and spicy flavors from the Nacional along with some tar and smoke