Kids. They don't even know when they're hungry half the time because they're so busy growing and learning they forget to eat. Making sure they get enough nutrition is always a challenge.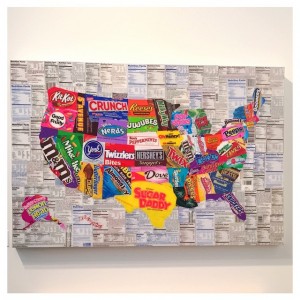 According to the US Center for Disease Control and Prevention, the rate of childhood obesity has more than doubled in children and tripled in adolescents within the last 30 years. And the culprits are easy to figure out:  too many pre-packaged, sugar-or-corn-syrup-laden, fatty, high-calorie foods instead of nutritionally dense foods (whole grains, fruits, vegetables, etc.)—the same problem a lot of adults have.
But in this modern, high-stress, no-time-to-cook world, what's a busy working parent to do? I was intrigued when offered a sample of a new product created by a couple of moms who worried about what their kids were snacking on. The pouches are called Slammers Snacks, and they meet a busy parent's needs as well as many kid preferences: screw-top, portable snack pouches (shaped like little old-fashioned hot-water bottles) that list organic fruits and vegetables as main ingredients (full list of ingredients below**). Labels say little or no fat plus 60 to 70% of daily vitamin C requirement. Other vitamin and mineral contents depend on the specific fruits/vegetables in each flavor mix (e.g., mango is big on vitamin A). A big selling point for two of their newest flavors is that each also contains seven grams of protein—read the label to make sure you're getting a protein-boosted flavor.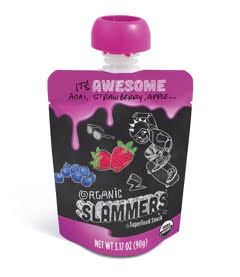 Because without the protein, a potential downside is that they're high in carbs and sugars because of all the fruit juice concentrates. Calories vary greatly—140 in the "Protein+ Organics Pomegranate Grape Crush" because protein powder boosts the calories, and 70 for the "It's Epic Orange, Mango & Yogurt." The concentrated fruit sweetening seems to be the tradeoff to get kids to eat it.
Taste is not overly sweet (no sugar added) and varies by the types of fruits used. The texture is smooth and soft like thin baby food. Or like a thicker version of the protein-powder smoothies muscle-building experts recommend.
The real test, of course, is whether kids eat them. I gave my 8-year-old granddaughter a couple of these squeezable, suckable pouches in flavors of Pomegranate Grape Crush and Orange, Mango & Yogurt. She ate them and is open to more. That's a thumbs-up in my book—although thank goodness she still likes fresh fruit and vegetables (the very best road to kid nutrition).
You'll find these pouches at Target, Safeway, Publix, H-E-B, Ralphs, The Market, Tom Thumb, Randall's, Carr's, Eagle and Vons. Targets in the Chicago area that carry Slammers: 7100 S. Cicero Ave., 2656 N. Elston Ave., 4433 S. Pulaski Rd., 1154 S. Clark St., 6525 W. Diversey Ave., 1940 W. 33rd St., 2112 W. Peterson Ave., 11840 S. Marshfield Ave., 1200 N Larrabee St., 1101 W. Jackson Blvd.
**Ingredients listed on a pouch of Slammer Snacks Pomegranate Grape Crush Protein+:

Organic apple, organic banana, water, whey protein isolate (Eating Well magazine says this powder can help build muscles and keep you lean), coconut cream, grape juice concentrate, organic pomegranate juice concentrate, purple carrot juice concentrate, organic lemon juice concentrate, ascorbic acid.  1g saturated fat, 26g carbs, 1g dietary fiber, 19g sugars, 7g protein.