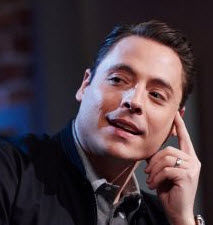 Food Network star Jeff Mauro (The Kitchen, Star Salvation, Sandwich King) took time out from his crazy-busy schedule recently to host the 3rd annual RedEye Battle of the Burger presented by Amstel Light. More than 500 guests enjoyed the beautiful summer evening on the patio of the Chicago History Museum where they sampled the between-the-bun, mainly-beef specialty offerings from nearly two dozen of the city's well-known eateries and cast their votes for Chicago's best burger. Winning burgers are at the end of this article–and man, they taste good with Amstel Light.
Jeff was kind enough to do a brief Q&A about being a Food Network star. Jeff originally wanted to be a comedian, but after years of cooking and working in delis and four years as a private chef in a big corporation, he also knew he wanted to be on Food Network. So, on his third try at the contest, he finally got cast.
What's your favorite story about how you got started?
"I was in NY for 11 weeks. My son was 2 years old. We just got done living in the basement with my in-laws. It was so stressful leaving, but I was pursuing this dream. When I came home from the call, I was in the top two and I knew I was going to make it. I went to my house—that I'd saved up for so long—and after thirteen years, my house, family, son. I was elated to be with my family again." He went on to win the  Food Network star competition.

How do they choose contestants for competitions on Food Network TV?

"The show's producers hire a casting company and these folks do an incredibly thorough job of vetting contestants. First, you make and submit a video, then you wait for a casting call. Then you go and then wait for a call back, then you compete. They do background checks, psychological testing, incident testing, on-camera test, ask very personal questions, and so on. They want to be very sure that this person will make a good appearance on television in terms of behavior, attitude and strength of character. It's a long process. But my wife just knew that last time that I'd make it. She told me, 'This video is going to get you there. Your life is going to change forever.' She was right."

How did you become known as the "Sandwich King"?

"When we were in the midst of the competition and I'd been mentioning all the diners and delis I worked at, Bobby Flay said to me, 'So, you're gonna be the sandwich king, eh?' And it stuck. That became my name henceforth. That had been my point of view for years as I went from butcher shop to sandwich catering company. I knew I was good at constructing those." For handy hints on making a non-slip sandwich, visit Mauro's Sandwich King web page.

What do you enjoy most—besides money!—about being a Food Network star?

"All the travel is hard, but it's great that I can include my family and travel places and experience foods. You get treated a certain way in restaurants. It's unique. I don't take it for granted. We still live in the same house and same neighborhood. I love making television. I've been doing it four years now."

What do you like most about Chicago as a foodie heaven?

"I've been in LA and NY. I'm in New York four to five times a month. I go to all the great restaurants everywhere, but I absolutely adore Chicago. It is a place where chefs can exercise their creative chops without the intense pressure that chefs in, say, New York have to face every moment when they're paying tens of thousands of dollars a month in rent. Chicago allows chefs to experiment and feel comfortable with trying new things, without always worrying about being first or how high they are in the competition."

What are some of your favorite restaurants in the Chicago area?

"I'm a neighborhood guy as opposed to downtown. I like, for example, Boka (Michelin star 2015) is one of my favorites right now. Boho (Bohemian House)—phenomenal schnitzel and housemade sausages. Jimmy's Place in Forest Park for pizza, Vesuvio Bakery and sandwiches, Gibson's. Hot dogs at Gene and Jude's, in River Grove. Johnny's Beef & Gyros."

Jam Restaurant in Logan Square is owned by a Jeff Mauro, but that's not the same guy.

"Yeah, it's a different Jeff Mauro who owns Jam Restaurant. I actually had him appear as a guest on my Sandwich King show."

What would you say to anyone who aspires to become a famous chef?

"Work in the kitchen at a restaurant for a summer. That'll tell you whether you really want to cook and whether you can stand the life. Short order cook, work the line, whatever—for free most likely. Save yourself 30-40 grand for culinary school."

Is there a book in your future?

"Maybe. Probably a memoir, though, not a cookbook. Anybody can get my recipes from TV. If I do write one, it's more likely to be the story of my life."

Anything else you'd like to say to our readers?

"God bless America!"
Top 3 winning burgers
3rd Annual Redeye Battle of the Burger sponsored by Amstel Light
Leadbelly (Portage Park and Gladstone Park): Old Time Religion Burger – Roasted tomato, goat cheese, arugula and truffle aioli (and I might add, try their fabulous  housemade butter cookies).
Beef & Barley, 3001 N. Ashland: The "Smang It" Burger – Chipotle mayo, Spanish chorizo, avocado, jalapeno, lettuce, tomato and pickle.
Whisk, 2018 W. Chicago: House Burger – Chihuahua cheese, chipotle mayo, guacamole and tortilla strips.