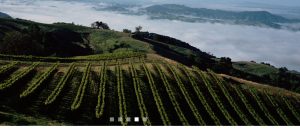 If you've ever thought a Pinot Noir from Oregon tasted like a Burgundy, you're not alone. Though half a world away from each other, both regions are located on nearly the same latitude and many winemakers in each area practice similar vinification techniques. Early makers of Pinot Noir in America had to go to Burgundy to study because no wineries here were making Pinot Noir at the time. Willamette Valley has been focusing on Pinot Noir for the last 51 years, and its capricious weather keeps winemakers on their toes.
Oregon, according to a panel of
Jackson Family Wines Collection
 winemakers from there who visited Chicago recently, is a state of mind that's slightly different for each of them, but all of them speak about the need to be flexible and creative and collaborative because of the challenge of Oregon's cool, fast-changing climate conditions.
Chicago is 6th in the United States in consumption of Oregon Pinot Noir – consumption here is up by 26% in the last year. And one of the big reasons is the excellent quality of the
Pinot Noirs
produced in the Willamette Valley by these very winemakers.
Below is a glimpse into the collective wisdom of these passionate and skilled winemakers – a somewhat loose arrangement of interesting bits about winemaking from the half-dozen panelists – who were, by the way, having more fun up there than we've ever seen in a wine tasting program!
The soils in Willamette (pronounced Will-am-it, dammit) are actually oceanic, which is really good for growing Pinot Noir grapes. As the earth's tectonic plates scraped against each other creating mountains in that area, they dislodged soil that was formerly at the bottom of an ocean and deposited that in the valley between the two mountain ranges, Cascade and Coast that both influence the environment and protect the grapes that grow here.
In 1988 there were only 49 wineries in Oregon. Now there are 700.
Unlike in Napa Valley where many owners don't live, Jackson Family winemakers live on site. They also meet regularly and readily share information with each other. For example, when one grower decided to try earlier thinning than tradition, he readily passed along the results: vines mature better and the grapes have more flavor.
California, Oregon's southern neighbor, is too warm to grow Pinot Noir grapes. It seldom has difficult growing seasons, whereas Oregon's climate is a constant challenge to wine growers.
Julia Jackson, born in Sonoma, said her mother had a vision of going to Oregon, and then the whole family fell in love with wines grown there. Julia herself loves being out in the vineyards, being stewards of the land, a sense of discovery about the great wines.  Jackson Family winemakers also believe in educating visitors and so sponsor collaborative trips for that purpose.
The grapes in Willamette are more transparent than those grown in Burgundy, yet the finished wines can easily be aged 10 to 15 years. Burgundy has many different producers. Willamette offers multiple mesoclimates. Producers must be in intimate touch with the features of their terroir, and most consider their big markers as the specific site and the vintage – yielding wines with a rustic nature and a nice backbone of tannins. Even though Oregon Pinots have a darker profile, they tend to be fresher and more acidic than California's.

Napa is most known for its Cabernet; Willamette is identified with Pinot Noir; Argentina with Malbec.

La Crema

was the first Jackson Family winery to move into Oregon. They definitely don't try to make a California version of Pinot, but rather work on discovering what's there and stay true to that. Willamette's vintage-to-vintage variability necessitates constant continuing education. Jackson Family winemakers are required to dedicate 5% of land to biodiversity as part of the goal of keeping the land healthy.

Lots of volcanic soils are good for winemaking and viticulture. They have greater water holding capacity. Results in plush, fruit-driven wines. Sedimentary soil (as in Willakenzie) drains more freely. Vines struggle more, resulting in wines that are a bit more rustic, firm, structured. Oregon has only these two soil types – sedimentary and volcanic. California has many more soil types than France.
Wind is a moderating influence, and in Oregon it is significant. The last two wines listed below are grown in seriously windy areas. Zena-Crown is in the Van Duzer Corridor, where the same strong wind blows all year, even on 90-degree days. "We pick 2-3 weeks later, because vines shut down at night. It's always been a truism that we can't plant above 1000 feet, but now we're considering it because the summers have been so much warmer. Skins get thicker from the wind – which helps grapes defend against weather. Keeps higher acidity, which equals freshness and tannins." Read more about the cool-climate growing conditions in Willamette Valley.
The winemakers are taking their program to various destinations around the U.S., and they said the character of the just-opened wines changes with every location – influenced by such things as barometric pressure, humidity, and the altitude at which you drink them. Even being on an upper floor, as we were in one of the beautiful
Kimpton Gray Hotel event spaces
 where the program took place, would make a difference. They all said the wines were giving off more florals and more spice here than they had in the previous city. Ha! Most of us can only dream of one day achieving the level of sensitivity of such highly educated noses and palates…
Jackson Family winemakers talk to each other and taste wines together. They are individual artists who make their own decisions. The Jackson Family does not prescribe that a winemaker must do something in a particular way. In fact, they even allow them to use blocks of land from partner wineries to make their blends.
Structure, texture, and aroma are the concerns when putting together a blend. All Jackson Family vintners use French wood barrels and must be instinctive about how many oak barrels to buy – a decision that's made long before the harvest.
"Look out for the tannins," said one panel member. "The fermentation process can get away from you. It's not good to add salt later in the process – that amounts to 'remedial winemaking' and isn't where we want to go." In Oregon, it always rains during harvest, but every good winemaker will say that's not necessarily a deal breaker. They know how to compensate.
One panelist said they don't drink their own wines at home, but rather experiment with others. "We go to the grocery store and buy European wines for $18-$20 a bottle. We want to know what the consumer is buying and experiencing."
Below are the names of the six wines the panelists provided for tasting, organized from lightest to most substantial in structure. Each is marked with our totally subjective star rating (remember, we tend to love highly structured wines) and a few winemaker tasting notes.