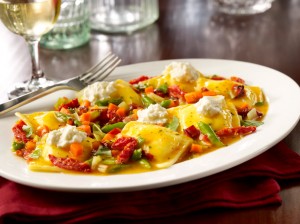 I recently tasted a wonderful gluten-free ravioli dish that Maggiano's is serving as part of its Make-a-Wish promotion going on through July 8 at all locations (read more here).  I was curious as to how they got that pasta so toothsomely good. Jeff Mann,* Research & Development chef for Maggiano's nationwide, was gracious enough to share the recipe for the dish and talk about how he developed it. He also talked about how they developed the GF pasta, but he didn't share that recipe. No matter. I guarantee, if you put together a pasta dish with this sauce, vegetable accompaniment and topping, it's going to knock your socks off no matter what kind of pasta you use. The Mascarpone/truffle oil cheese topping alone is delightfully flavorful.
Considering that Maggiano's is a scratch kitchen, these recipes show you the impressive amount of love and care that go into the preparation of their menu items. I'm ready to go for dinner right now! Herewith, the recipes for items that go with the raviolis (or other pasta):
Spring Vegetable Ingredients:
4 Tbsp olive oil
1 large yellow bell pepper, diced ½"
1 large red bell pepper, diced ½"
1 medium carrot, diced ½"
Salt and pepper to taste
8 stalks asparagus, sliced on a bias ½ "pieces
1 small leek, diced ½"
Instructions
Preheat your oven to 375˚. Once you have diced your yellow and red peppers place in a small bowl, toss with olive oil and season with salt and pepper. Place on a baking tray and cook for approximately 10-12 minutes or until there is slight char to the peppers. Remove from oven and reserve until the rest of the vegetables are ready.
Place a pot of cold water on stove on high heat. Season water with salt to add flavor to your carrots and asparagus. Once the water has come to a boil, place asparagus in boiling water and cook for 2-3 minutes depending on how thick the asparagus is. Once the asparagus is al dente place in an ice bath to stop the cooking process. While asparagus is cooling in ice bath place diced carrots in same boiling water and cook for 1 minute. Place carrots in water bath to stop the cooking process. Once asparagus and carrots are cool place in a bowl and reserve.
Cut one small leek in half lengthwise. Then split the leek in half lengthwise again. Cut into ½" pieces. You want to use some of the green part for flavor. Rinse leeks very good to remove all dirt. Place clean leeks in same bowl as carrots and asparagus, then add roasted peppers that have cooled reserve.
Parmesan Broth Recipe
4 cups gluten-free chicken stock
1 Tbsp corn starch (plus 2 Tbsp water to mix)
1 cup small diced Parmesan cheese, about ¼ "
1 sprig fresh thyme
1 bay leaf
4 whole black peppercorns
Instructions
Place gluten free chicken stock in a medium sauce pot add fresh thyme, bay leaf and black peppercorns and place on stove on a medium high heat and bring to a simmer. While stock is heating place 2 Tablespoons of cold water in a small bowl with the cornstarch and mix together so corn starch dissolves. Once stock has come to a simmer add corn starch water mixture to stock and continue to cook for 2-3 minutes or until slightly thickened. Turn off burner and slowly add small diced Parmesan cheese and mix until all cheese has melted into the chicken stock.
Strain the broth making sure to remove bay leaf, thyme and whole peppercorns, reserve broth.
Truffle Mascarpone Recipe
½ cup cream cheese, room temperature
½ cup Mascarpone cheese
2 Tbsp white truffle oil
¼ tsp kosher salt
1/8 tsp fresh ground pepper
Instructions
Place softened cream cheese and Mascarpone in a mixing bowl and mix until incorporated. Add white truffle oil, salt, and pepper. Continue to mix until everything is incorporated, reserve.
Additional ingredients
28 pieces gluten-free cheese ravioli or gluten-free pasta of choice
4 Tbsp butter
4 Tbsp sun-dried tomatoes
¼ cup fresh chopped basil
Finishing Dish
Place Parmesan broth in a large sauté pan and place on medium high heat. Add butter; once butter has slightly melted add your gluten-free raviolis. (Make sure they are not frozen and have thawed in your refrigerator. If you can't find gluten-free ravioli you may use any gluten-free pasta of your choice. (Follow cooking instructions for gluten-free pasta on box for cooking). Once broth has come back to a simmer, add your spring vegetables and sun-dried tomatoes and continue to simmer, making sure that the raviolis are not sticking to the bottom. There should be enough of the broth to be able to simmer the ravioli or pasta to cook all the way through. Once heated all the way through, turn off heat. Add fresh chopped basil and mix to incorporate. Place ravioli or pasta on a large platter or you may divide into 4 different plates. Evenly distribute the vegetables on top of the pasta. Place 3 to 4 small dollops of the truffle Mascarpone on top of each dish and enjoy.