You know how sometimes when you walk in a place – air-conditioned and comfortable-like – on a hot day, you feel so grateful you decide to set a spell. That's how it feels to walk into 
Jake Melnick's Corner Tap
, 41 E. Superior. Don't let the address fool you. It's a quick and easy walk from Michigan Ave., sitting nearly katty-corner to  The Peninsula Hotel.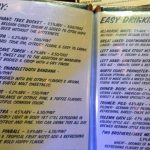 The lighting is a mixture of behind-the-bar, overhead (subtle) and twinkle lights; the effect is warm and cozy – even the tiny lights lining the panels of the dark wood ceiling are a warm orange-y shade. The music is upbeat, and the mood is laid-back party. With a big selection of beers, craft and otherwise, plus a selected list of decent wines and a full bar, you can get anything you want to slake your thirst and/or complement your food. Remember, the keynotes here are 'barbeque' and 'fried.'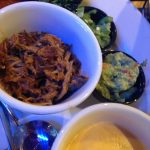 Jake's signature Street Fries are amazing. Served with half a dozen condiments, from creamy, rich cheese sauce, sriracha and jalapeños to pulled pork, delicious chunky guacamole and chopped cilantro, they're skin-on, just-crispy-enough French fries. You can get them with everything dumped on top or with everything on the side so you can customize your taste experience. The cilantro and guac combo is excellent – even sans fries. Dip some fries in the cheese sauce and top with fresh chopped jalapeño – scrumptious.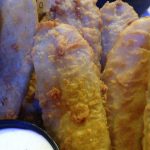 The deep-fried pickles are cut in long, thin whole-pickle slices rather than chips or spears so you get plenty of the delicious breading in every salty, savory bite – which you can further enhance by dipping in a little tub of Ranch dressing. The hand-cut BBQ potato chips are crunchy and gently-BBQ-seasoned. Topped with a sprinkle of blue cheese and chopped scallions and served with a light blue cheese dressing, these were the only items that didn't quite live up to expectations.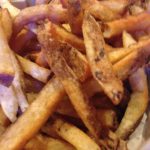 Order the pulled pork sliders, served with a huge pile of French fries, so you can have the chance to try all three of Jake's signature sauces – Carolina (vinegar-based), Georgia (mustardy and delicious) and traditional BBQ flavors – one on each of three mini egg buns full of sweet, juicy pulled pork that's smoked right on the premises. They smoke all their meats here – brisket, chicken, ribs and more.
Jake Melnick's
 has been servin' up good BBQ in Chicago for 15 years now. Even as I write I'm still dipping fries in the cheese sauce and scarfing up the rest of the jalapeños. Great place to hang with a group of friends or bring the family. With a choice of so many signature sauces for almost everything, ketchup on the fries seems like overkill
 – 
but at Jake's, you make the call.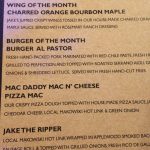 And don't forget the wings, burgers and sides – and the monthly specials. August specials are: 1) Jake's jumbo crispy Charred Orange Bourbon Maple chicken wings served with rosemary Ranch dressing $13.95, 2) Burger al Pastor (pork marinated with red choke paste, fresh herbs & citrus, grilled and topped with roasted Serrano aioli, grilled pineapple, onions & shredded lettuce, served with fries) $15.95, 3) Mac Daddy Mac n Cheese Pizza Mac (crispy pizza dough with house-made pizza sauce, Jake's creamy Mac, cheddar cheese, local Makowski hot link & green onion) $11.95; and 4) Jake the Ripper Makowski hot link wrapped in bacon, served on a sausage roll & topped with grilled onions, fresh pico de gallo & chipotle-lime cream) $12.95.
Be advised, come hungry and leave your diet behind. And if you want a little more nutrition, they've got salads. And brick oven pizzas.
And, oh, yeah. sweet potato fries.
Bulletin…this just in. In case you have room for dessert – or that's really what you want anyway – they've got some kick-a** items in that category, too:
Fried Oreos. The classic cookie, pancake battered and fried, then served over vanilla ice cream and drizzled with chocolate sauce. – $6.95
Warm Apple Pie Skillet. Fresh-baked old-fashioned apple pie with vanilla ice cream. – $6.95
Chocolate Chip Cookie Skillet Sundae – a giant warm chocolate chip cookie with vanilla ice cream, warm fudge and whipped cream. – $6.95
NEW! Jake's Carnival Fries:house-made funnel cake strings tossed in powdered sugar, topped with vanilla ice cream, strawberries and caramel sauce with whipped cream and sprinkles. $7.95