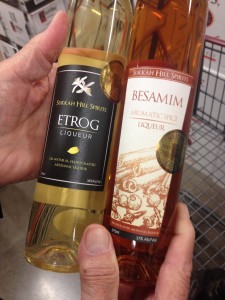 Liqueurs are traditionally thought of as après dinner, but these two I recently received to sample look to be comfortable just about any other time as well. Strangely named—one is Besamim and the other is Etrog—these are hand crafted with meticulous care in small batches using locally sourced  ingredients as much as possible—including from the maker's own orchard.
The tastes are distinctive for sure. Besamim (74 proof) is described by the Beverage Tasting Institute as "Vibrant aromas and flavors of cinnamon, nutmeg, and clove with a silky, moderately sweet, medium body and a gently warming frosted carrot cake and candied spiced nut finish. Elegant, natural and balanced spice flavor that is great on its own and in holiday cocktails." I can't improve on that. To put it simply in my words, it tastes like Christmas in a glass. Think of mixing or serving with creamy or apple-y or pumpkin-y things. The flavor is intense but beautifully balanced. My mouth is watering at the thought of a glass of this with a piece of pumpkin pie.
Etrog (76 proof) is a more mysterious combination of flavors that inventor, Marni Witkin first created by adding leftover holiday etrog – the yellow citron, a fruit traditionally used by Jewish people during the week-long holiday of Sukkot—into some vodka to see what would happen. As it happened, she passed the drink around to her friends, and they all liked it—a lot. She and her husband planted an orchard and now grow these unique fruits.
The finished commercial Etrog product likely tastes more complex than that first accidentally infused spirit. On its own, the liqueur has a tiny bit of a medicinal taste that's similar to an amaro, the popular Italian digestif, but Etrog is somewhat lighter and lemon-based rather than evocative of dark roots and herbs. Mixed in cocktails, Etrog layers in a unique citrus-y subtlety that works well with a variety of liquors and other mixers. From gin (the Etrog Ricky recipe is super refreshing and a bit more complex than the traditional simple gin rickey) to bourbon, this liqueur is a star when it comes to building a cocktail with layers of flavor. Read here for more recipes.
Now available at your local Binny's for $24.99 for a 375ml bottle. More locations on the way as these unique new cordial/liqueurs make their way into outlets across the country.