Jack Daniels Gentleman Jack recipes
Gentleman Jack Sour
1.5 oz Gentleman Jack
3/4 oz fresh lemon juice
1/2 oz simple syrup
Dash of bitters
Shake all with ice. Shake and strain into chilled rocks glass.
Gentleman Jack Spa Day Sour
1.5 oz Gentleman Jack
1 oz sour mix
1/2 oz Giffard Pamplemousse
2 oz ginger beer
2 slices muddled cucumber
Shake all but ginger beer with ice. Add ginger beer. Strain over ice into Collins glass. Garnish, if desired, ith slice of cucumber.
Gentleman Jack Just Peachy
1.5 oz Gentleman Jack
1 oz fresh lemon juice
1 ox Monin Peach Syrup
2 oz lemon/lime soda
Shake all but soda with ice. Add soda. Strain over ice into Collins glass. Garnish, if desired, with lemon wedge.
French Gentleman
2 oz Gentleman Jack
1 oz fresh lemon juice
1/2 oz Chambord
1/2 oz simple syrup
1 egg white (3/4 oz)
Dry shake all for at least one minute. Add ice. Shake well. Fine strain into cocktail glass. Apply GJ logo with stencil and torch.
Bacon Ale Cheese Dip
from THE COCOA EXCHANGE™ POD & BEAN™
½ pound bacon slices
1 Tbsp. butter
½ yellow onion, diced
1 Tbsp. Dijon mustard
1 Tbsp.  POD & BEAN™ Stone Ground (cocoa-infused) Mustard
8 oz. cream cheese, softened
12 oz. dark brown ale
6 cups sharp cheddar cheese, shredded
Soft pretzels for dipping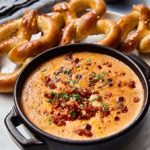 Heat oven to 350° F. Add bacon to a large skillet over medium heat. Sauté for ten minutes until just crispy and then remove and place on a sheet tray lined with foil. Allow bacon to cool and then rough chop.
In a large saucepan on medium heat, melt butter and then add the onions and cook until soft, about 3-4 minutes. Whisk in the Dijon mustard, POD & BEAN™ Stone Ground Mustard, and the ale, scraping up the bits from the bottom of the pan.
Increase the heat and bring to a boil and cook for 5 minutes, stirring occasionally. Add the cream cheese and reduce the heat to medium. Whisk the cream cheese into the ale mixture until the cheese melts and becomes creamy. Turn off the heat. Slowly add five cups cheddar cheese to the ale mixture, stirring until the cheese melts and is smooth. Stir in ¾ of the bacon and save the rest to sprinkle on top.
Spray a 1 quart baking dish with cooking spray. Pour the dip into the dish and top with the remaining cheddar cheese and the rest of the crumbled bacon. Bake for 20-25 minutes or until the dip is bubbling. Serve warm with soft pretzels.
Magnum Adult Milkshake – a twist on the traditional Egg Crème
2 parts MAGNUM
1 small scoop vanilla ice cream
Chocolate syrup to taste
Vigorously blend to smooth consistency, pour into a tall glass and enjoy.
Magnum Espresso Martini
1 part MAGNUM
1 part espresso
1 part vodka
Vigorously shake, pour into a martini glass and garnish with a peppermint stick.
Stir with ice in a mixing glass and strain into a rocks glass over one large ice cube or a martini glass. Garnish with a lemon twist. Note: Can be tailored to personal taste with the addition of olive brine, specialty olives and/or 0.25 oz. dry vermouth (if adding vermouth, decrease Ketel One Vodka by 0.25 oz.).
1 1/2 parts Grey Goose vodka
1 part St-Germain elderflower liqueur
3 lime wedges
1 parts chilled soda water
Build in an oversized Cabernet wine glass with plenty ice. Add vodka, then squeeze three lime wedges and discard. Top with St-Germain and chilled soda water. Garnish with two lime wedges.
1 ½ oz Prairie Cucumber-Flavored Organic Vodka
2 oz tonic water
½ oz cucumber juice
½ oz fresh lime juice
1 oz simple syrup
Fresh mint leaves
Cucumber slices
Combine ingredients in a shaker and shake to mix. Pour over a glass filled with ice; top with fresh mint leaves and cucumber slices (optional).
2 oz Maestro Dobel® Silver Tequila
1 oz tart cherry juice
.5 oz fresh lime juice
Barspoon raw agave
Build in tin, shake and fine strain into an old-fashioned glass filled with ice . Garnish: Ancho chili/Himilayan sea salt rim, edible flower.
2 oz. Pisco Portón
2 tablespoons sugar (or to taste)
2 cinnamon sticks
2 cups whole or 2% milk
2 egg yolks
1 egg white
1 teaspoon vanilla extracts
Ground cinnamon
1)      In a saucepan combine sugar, cinnamon sticks, and milk. Bring to a boil over medium-low heat.
2)      In a bowl, beat the egg white until foamy. Add the egg yolks one at a time and continue beating. Continue beating as       you pour the boiling milk over the eggs.
3)      Add Pisco and vanilla. Garnish with ground cinnamon and serve immediately.
Etrog Ricky [sic]
3 oz London dry gin
1 oz Etrog liqueur
3/4 oz fresh lime juice
seltzer water
Combine first three ingredients in cocktail shaker with ice. Shake, strain and pour over ice. Add seltzer to taste and stir.
Spring Fever
2 oz. 1800 Silver
Tequila
1.5 oz. red grapefruit juice
1 oz. fresh lime juice
Combine ingredients into shaker and shake well. Serve in glass and garnish with lime wedge.

Coconut Crusher
1 oz. 1800 Coconut Tequila
1 oz. pineapple juice
Combine ingredients in a shaker and strain into a rocks glass filled with ice.

Tequila Daisy
2 oz.1800 Silver Tequila
1 oz. Triple Sec
2 oz. fresh lime juice
Combine the tequila, triple sec and lime juice in a cocktail shaker and strain into glass. Garnish with lime wedge.