Whether you're new to enjoying wines or an old hand, it's always nice to hear what an expert has to say—especially one who grew up in the midst of the French champagne mystique. Such a man is Patrick d'Aulan, who recently visited Chicago.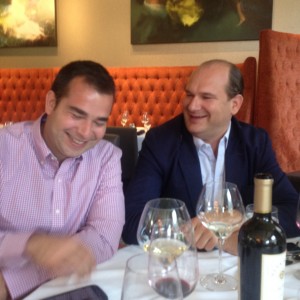 Patrick d'Aulan (right in photo), owner of both Altamana Chilean and Alta Vista Argentinian wineries, comes from a family with 150 years of winemaking experience as owners of Piper Heidsieck champagne. But all that time and even after selling the company, d'Aulan said his father was always looking for new challenges. "He was the first to make sparkling wine in India," said d"Aulan. "He had already gone to Sonoma and established a presence there with Piper Heidsieck." He said his father believed in starting early to instill the appreciation of wine in his children.
"My father began teaching me and my sister to taste wines when I was 5 or 6 years old. On Sunday nights he would give us a small glass of wine, then blindfold us and put a covered plate of fruit in front of us. Smell the wine, then smell the fruit, he would say, to notice the relationship between the two." D'Aulan recalled how early Chardonnays were always associated in his mind with pineapple.
"The fact that he made it fun really helped us learn how to taste wines," said d'Aulan. "But I really began to learn about wines seriously from my uncle. He had a library of wines. He started me early in life by giving me a little bit of wine and a lot of water. Then each year he would increase the wine a little and decrease the water. Once I reached 18, he told me I had the right to go into his library of wines. Later, I gave him a bottle of my first wine which he had agreed to put in his library."
"People tend to confuse the idea of having wine as part of your lifestyle with the excesses of alcoholism," said d'Aulan. "There is no comparison. Giving a kid wine early on is a great way to introduce that child to the appreciation of wine for a lifetime."
Technology can help, and education is very important. Matthieu Grassin (left in photo), winemaker at d'Aulan's Alta Vista vineyards in Argentina said, "We use technology to enhance our ability to make good decisions while making our wines." Grassin said they use an app that shows the slope and temperature variations over every square yard of their vineyards. But that's just a tool in their winemaking scenario, D'Aulan said. He hired Grassin not just for his formal education in oenology and viticulture, but also because he had significant hands-on experience in the trenches—personally working the vineyards. "I would not trust someone who did not have this kind of experience," said d'Aulan.
D'Aulan is proud that Alta Vista's three single-vineyard Malbec wines are considered benchmarks of Mendoza's old Malbec terroir wines. To help Argentina build its reputation—and so that his own wines will be part of it—he has gifted the trademark concept and use of "single vineyard" Malbec to the Argentinean National Viticulture Institute.
More memorable remarks from Monsieur d'Aulan:
Technology can help with changing climate conditions, but good winemakers know how to make good vintages in all kinds of weather. "When nature is not generous with us, we have to deal with it. It is the heart and courage of the winemakers that makes the difference," said d'Aulan.
Global warming isn't just a temperature threat. More frequent storms, especially hailstorms, are an even greater threat to a vineyard. They can destroy the green-leap canopy and damage the vines for the next year as well. Our protection against hail is emergency nets; against frost, it's setting fire pots around the vineyard. One winemaker hires a helicopter to fan the air circulation against frost. These attacks cannot be predicted but rather are always completely random.
Cutting down on nature's interference may make less work for a winemaker, according to d'Aulan, but a very clean vineyard is not a good sign. "It should be wild and a little dirty, with flowers and creatures."
D'Aulan believes that apps like Vivino make sense. "I like to get feedback from consumers, expert or not."
Winemakers usually add SO2 (sulfur dioxide) to their wines to purify them. But this is not natural. D'Aulan's Altamana vineyard is working towards adding no SO2 to become a totally natural wine. No pesticides.
Read more about d'Aulan's extraordinary Altamana and Alta Vista wines here.