Whether you like to read about wine, beer and spirits or drink them, or both, here are a few ideas for your edification that might also make potentially interesting holiday gifts.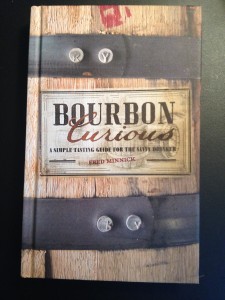 One bourbon. Book review: Bourbon Curious: A Simple Tasting Guide for the Savvy Drinker.  If you are indeed curious about bourbon, this excellent book may help you become something of an expert. Written by a guy named Fred Minnick, noted whiskey authority who also wrote Whiskey Women: The Untold Story of How Women Saved Bourbon, Scotch and Irish Whiskey. The new book presents an easy-to-use interactive experience that helps you pick bourbons based on your flavor preferences.
Using the same tasting principles he offers in his Kentucky Derby Museum classes and as a judge at the San Francisco World Spirits Competition, Minnick dismisses all the brand marketing hype and judges only the flavor of the bourbon. His guide starts by grouping bourbons into four main flavor profiles—grain, caramel, nutmeg, and cinnamon. Isn't it cool to think of bourbon as having those surprising sweet/spice flavors? While many bourbons have all four of these flavor notes, one sensation usually overpowers the others. In the book you'll learn about the predominant tastes of fifty different bourbon brands. Plus, you'll find a bunch of cocktail recipes for making the most of the bourbons in each profile.
The expert author debunks a lot of myths surrounding the drink and tells why these legends came to be. He explains the mysteries of making bourbon and reveals a few distillers' secrets and even discloses some of their recipes for making this celebrated spirit. A great gift for a bourbon lover.
__________________________________
One Scotch. Book review: Spirit of Place: Scotland's Great Whisky Distilleries, by Charles MacLean. They say Scotch is an acquired taste. Certainly the peat-y, smoky taste and aroma of some varieties can take getting used to. But if you admire Scotland and its iconic Scotch whisky—no "e" please in Scotch whisky—or are planning to visit or have visited the distilleries, or just want to know more while you enjoy a drop at home, check out this recently released book.
The book takes you on an annotated photographic tour of Scotland's various distilleries–from Talisker to Lagavolin, Laphroaig to Dalwhinnie, the Isle of Arran to Glenkinchie. You'll get a feel for the spirit of the place without having to hop an airplane. More than 250 specially commissioned photographs capture the beauty of the changing seasons in the landscapes around the distilleries, portray the skill and dedication of the craftsmen who work in them, and reveal the fine details of the buildings themselves.
MacLean has authored 10 books including 
Malt Whisky
and 
Scotch Whisky
, both of which were shortlisted for
Glenfiddich Awards
, and
Whisky: A Liquid History
, which the James Beard Foundation named Wine and Spirit Book of the Year 2005. Lara Platman and Allan MacDonald, both professional photographers, took the beautiful photographs that give this book such a powerful feeling of place. It would make a lovely gift to yourself or your favorite Scotch lover.
__________________________________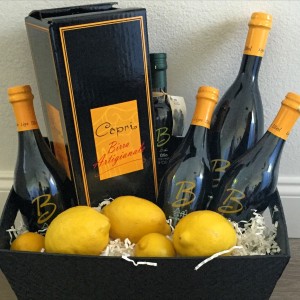 One beer. Birra Capri luxury Italian beer has just been picked up for distribution in Chicago. Known as "a wine drinker's beer," this unique brew—not many truly luxury Italian beers are available—is soft, light and refreshing, with very particular yeasts that give it a fruitful taste. It's made to pair well a wide variety of cuisines. Made by the Brunetti brothers, Birra Capri was born in 2006 out of the family's café in the heart of Anacapri. Birra Capri is unpasteurized and unfiltered, and is locally sourced and brewed in Capri, Italy.