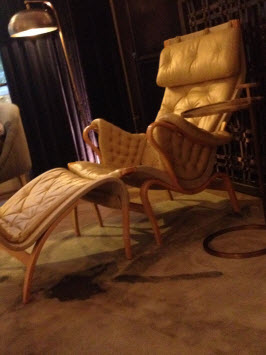 The Kimpton Gray Hotel, 122 W. Monroe St. at LaSalle, is the newest upscale lodging option in the heart of the Chicago Loop's legal and financial district. Located on the second floor, the lobby – known as "The Living Room" – welcomes guests with coffee, tea and muffins in the morning and wine and cheese receptions each evening. Naturally, the Wi-Fi is free. The huge arched windows, framed with floor-to-ceiling black velvet draperies with gold headers, let in natural light and spotlight views of bustling Monroe and LaSalle Streets.
Just off the lobby guests can join locals for lunch, dinner, drinks and more in the
bar and restaurant Vol. 39
, so named because it refers to the legal volumes that fill the bookcases surrounding the eating area. Handsome lighting and luxurious seating arrangements are perfect for intimate meetings, whether business or pleasure.
The new hotel is the dramatic result of a complete
rehabilitation of the former New York Life Insurance building
, originally built in 1894. A sweeping marble staircase leads from the entrance to the second floor lobby – graced with the sound of a jazz quartet at the grand opening. Many of the hallways in the 15 floors are still lined with the original marble. At the grand opening designers made dramatic use of lighting – electric, multi-colored, candles, spots and more – to showcase decorations and finishes. A large section of the meeting room space was strikingly decorated with candles and complementary yet completely different items to hold candles and flowers.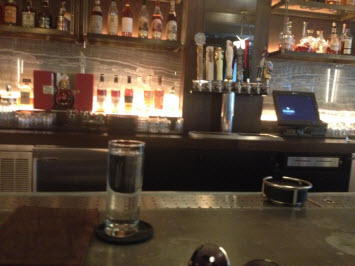 Besides Volume 39, guests and locals can select breakfast, lunch or dinner available at Steadfast, the restaurant and bar located at 120 W. Monroe and situated within the main floor of The Kimpton Gray. Its menus offer unique items like duck liver mousse crostini and a laminated brioche sandwich with Serano ham, Manchego, quail egg and caviar.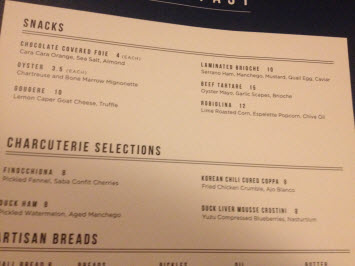 The presidential suite was beautifully appointed with sleek modern fixtures in a gray/white/black theme and was, well, presidential in its grandeur – easy to picture a president relaxing there. Other size rooms and suites were equally handsome though somewhat smaller, of course. On the 15th floor the rooftop restaurant/bar BOLEO offers a menu with a South American flair and a comfortable place to take in some unique views of downtown. The grand opening featured a hot-tempo video/DJ combo and soulful trumpet by Kafele playing along.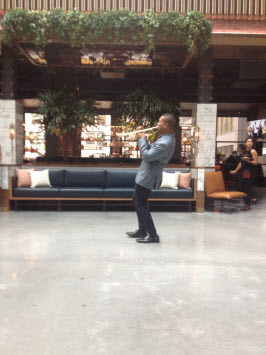 Elegant. Understated. Service-oriented. Kimpton always does a great job. And now The Gray is a new top pick among the Chicago Loop's eat-drink-and-stay choices.