It's never too early to start thinking about wines you might like to serve with your holiday meals. The selection is endless, certainly, but recommendations can help you hone down the list of possibles. Based on some recent complimentary review tastings, here are three we can recommend for various occasions, including various upcoming holidays. Two Sicilian whites and one red:
Lighea 2016 Sicilia DOC Donnafugata. This is a truly unique taste in white wines. It's made of Zibibbo grapes (also known as Muscat of Alexandria), and the vines are grown in hollows on low bush vines (notorious for lower yields than traditional). This vintage was grown in a relatively dry season with weather that wasn't overly hot, so the winemakers were able to focus on the quality of the grapes without worrying about quantity. Lighea has a brilliant straw color with greenish tints, a nose of classic notes of orange blossom, saturn peaches and Mediterranean scrub. The aromas reflect exactly what you'll taste on the palate along with a fresh mineral vein – and that's why this unusual combination produces such a unique flavor. Delicious as an aperitif and good with first courses like seafood or a light soup. SRP ~$15-20.
SurSur 2016 Sicilia DOC Donnafugata. Made from the ubiquitous Sicilian grape, Grillo, this white wine has a fresh and fruity character and a bouquet of peaches, elderflowers and rosemary – so there's a hint of savory that makes it lovely with seafood, vegetables and baked sturdy fish. Open it when you're ready to serve and pour into medium-size tulip glasses to get the most out of the fruity aromas and the brilliant straw yellow color. Even the label, with its painting of a young girl running through the grass, makes you feel like you're there with her, "listening to a thousand Sur Sur" (it means crickets). Nice value for an apertif at SRP ~$13.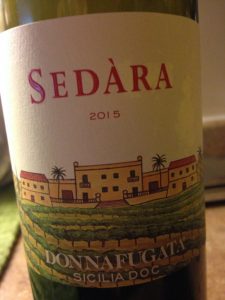 Sedàra 2015 Sicilia DOC Donnafugata. Another of Sicily's classic grapes, Nero d'Avola, is blended with Cabernet Sauvignon, Merlot, Syrah and other grapes here and crafted into a quality red wine suitable for everyday enjoyment or favorite family occasions. The dark berries and slight spice notes come out in a pleasantly dusky quality that makes this wine good for pairing with rich foods like barbequed meats, pizza, or even seared tuna or roast turkey. A complex, structured red that benefits from letting it breathe a while before you drink. SRP ~$15.