Barbecue is always popular for summer celebrations, and many dads especially love going out for it – so they don't have to prep, cook and clean up on the home grill. Here are two options for Chicago dads this Sunday:
Pinstripes, 435 E. Illinois, the indoor entertainment center, celebratesFather's Day with a backyard BBQ Brunch. Give dad a break and come help him appreciate the carving station, fresh seafood, waffle bar, made-to-order omelets, dessert station with a chocolate fountain, and endless mimosas plus BBQ ribs, Italian sausage, pesto chicken, corn on the cob, and more. 9:30 to 3 pm. Adults $34, kids 6-12 $15, kids 5 & under eat free.
And then there's Lone Star BBQ, 3350 N. Harlem, where the family can treat dad to a delicious lunch or dinner this Father's Day all weekend. Lone Star BBQ Bar is Chicago's newest full-service BBQ restaurant that smokes its meats over post oak wood, imported from Texas, without the use of gas or electricity. Choose from pulled pork, ribs, brisket and more smoked and sauced meats, plus crispy salads and cool desserts. Pretzel cake, anyone?
And how about a different kind of gift for dad this year? Check these out.
Can you believe it? A window-washing robot. Ecovacs Robotics makes the WINBOT W830 and says it cleans even nearly impossible-to-clean windows. All you do is place the microfiber cleaning pad on the machine, spritz the pad, switch it to "ON," place it on the window and press start. Use it on vertical glass, framed or frame-less glass, frosted, filmed or colored glass, horizontal surfaces, and much more. Automatically avoids frames and other obstacles. $399.99 is a stiff price tag, but maybe if you have a lot of windows…
If  the dad on your gift list enjoys champagne, try surprising him with a pewter-embellished bottle of Spanish sparkling wine (cava). Heredad Reserva from Segura Viudas will make him feel special. And if he decides to share it with you or his pals on the golf course, race track, or by a campfire, he's sure to enjoy the opening aromas that are lightly smoky with touches of biscuit, followed by hints of honey, fruit and flower petals. And to make him feel even more special, show him how the word "Heredad" translates into "Here, Dad!"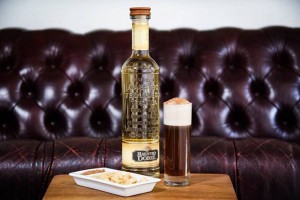 Do the dads in your life like tequila? Try making them a sumptuous cocktail (or two) using that favored spirit. Here's a buzz-friendly recipe that sounds almost like dessert-and-coffee, compliments of Maestro Dobel Tequila:
Power Ballad
2 oz Maestro Dobel® Reposado Tequila
1 oz cold brew coffee
1 tablespoon brown sugar
Pinch of cocoa powder
3 dashes of fig bitters
Egg white

Method: Build all ingredients in tin, shake without ice, add ice, shake with ice, add 1 oz soda
water to glass, strain contents into tall collins glass without ice. Sprinkle cocoa powder, serve with salted macadamia nuts.
And while you're buying him wines and spirits, you might want to give him the good news about alcohol and Type 2 diabetes risk. According to an article in Wine Spectator, moderate consumption of beer lowers your risk by 5%, the same of spirits lowers it by 9% and the same of wine lowers it by 20%. "According to U.S. health agencies, a "standard" drink contains 14 grams of pure alcohol. This is equivalent to a 12-ounce Budweiser, a 5-ounce glass of cool-climate Pinot Noir or a 2-ounce shot of whiskey. The scientists defined moderate consumption as 20 to 30 grams per day for beer and wine and 7 to 15 grams per day for spirits."
So go enjoy a little, 'cuz drinking more than moderate levels actually increases the diabetes peril.