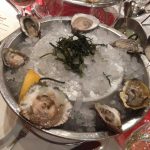 It's Oyster Fest week, people! Shaw's Crab House Chicago is making this week a real standout on the calendar with multiple events honoring the king of bivalves, the oyster.
Yesterday, for example, author Cynthia Nims and Shaw's invited press and industry pundits to hear about the amazing things she learned about oysters in writing her
book, Oysters: Recipes that bring home a taste of the sea
. Guests were treated to a wide variety of oysters made with recipes taken from her book and lovingly prepared by the oyster expert chefs in Shaw's kitchen.
The event started with a sinus-cleansingly-hot wasabi oyster shooter and went on with a tray of oysters on the half shell from various regions of the US. These included the delectable small Olympia oyster from Puget Sound, several with Japanese names (and origins) from both East and West coasts, one from New Brunswick, Canada (very close to the Prince Edward Island known for its mussels) and one large, flat variety from Casco Bay Flats in Maine. The Olympia was a favorite.
Next on the menu came steamed-then-chilled Shigoku oysters, one dish made with a super-fresh and original mix of watercress, cilantro, Asian pear, candied pecans in an orange vinaigrette that was simply delicious. Another covered the oysters in a sake-ginger butter sauce full of flavor.
Next course was a trio of hot oysters – one baked with leeks and thyme, another gratineed with kale, and a third grilled and covered with a bright green arugula-almond pesto. Meanwhile Cynthia regaled guests with stories of how oysters filter the water in which they live and how their taste is profoundly affected by their environment, somewhat in the way wines are heavily influenced by their terroir. She said in all her years of food writing she's rarely seen the passion and the partiality of oyster lovers in fans of other food groups.
Check out other 
oyster-related events at Shaw's here
and get ready for their huge
Oyster Fest, on deck for tomorrow, Friday September 30
, 3 to 10pm. Rain or shine the fest is on – and Shaw's stands ready to help you enjoy it no matter what. They've purchased 1000 rain ponchos to pass out should the weather decide not to cooperate. Whether you join the teeming crowds, or you purchase the new-this-year VIP seated/service option, come on down and thrill to the live music,
the great food
and fun crowds at Shaws Chicago Oyster Fest 2016.