Kim Crawford is renowned for Sauvignon Blanc wines that are reliably excellent – and that taste very much like each other – from vintage to vintage. That's unusual in the wine world. Most vintages change according to the vagaries of the weather. Kim Crawford's secret is blending – and going on blending – until each vintage tastes enough like the last one to give consumers a sense of comfort and familiarity.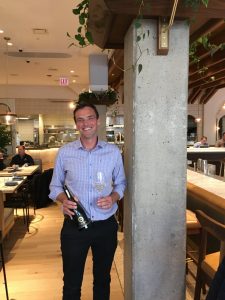 Chief Winemaker Anthony Walkenhorst, a tall, handsome , slender young man with striking blue eyes, was already a seasoned winemaker when he joined the Kim Crawford team in 2005 and began working side by side with the founders to learn to capture the essence of the brand. Now, he shapes the brand's unique style of wines while living by its unwavering philosophy about making wine. Read more about Anthony below.***
On a recent visit to Chicago, Anthony sampled the newest vintage of the classic Kim Crawford Sauvignon Blanc 2018. Rich and juicy acidity with a hint of tropical pineapple, this vintage, like all of KC's SVs, requires lots of blending in order to reach the KC classic profile. This one retails for ~$17.99
On the same visit, Anthony introduced a new Reserve version of the brand's top selling varietal: Kim Crawford Signature Reserve Sauvignon Blanc 2017 from the Marlborough region of New Zealand. Made with grapes grown from a certain small area in the vineyard where the market vegetables used to grow. The ground is flat and at a lower elevation and as a result, the wine has big aromatics. It's a crisp, very minerally wine. STP ~$24.99
Another notable expression among the wines he brought to Chicago recently was the Kim Crawford Chardonnay 2017. 100% Chardonnay Alc 13.3% Consider this creamy, unoaked (although he says they've officially stopped using that term) wine that pairs nicely with almost anything light. Its second fermentation is what gives it the creamy mouthfeel. SRP ~$16.99.
Any of these Kim Crawford beauties would make a lovely hostess gift for your next dinner with friends!
______________
***Anthony's journey to becoming Kim Crawford's chief winemaker befits the unique flavor and rebellious nature that's ingrained in the brand's DNA. As Anthony puts it, "Being a winemaker allows me to combine creativity and growing, which I love. I was hooked from the beginning." An attitude that Kim Crawford couldn't agree with more.
Anthony received his First Class Honors Bachelor of Agricultural Science Degree from the highly esteemed University of Adelaide in Southern Australia. In a quest to immerse himself in every aspect of wine after his studies, Anthony traveled the vintage trail to partake in harvests from Australia to Napa Valley.
That spring, the stars aligned and a spot at Kim Crawford Winery opened, one which Anthony jumped on. This was not only the chance to work with one of his idols, but with the famous Marlborough Sauvignon Blanc grape at the same time. After his first batch won the Sauvignon Blanc Trophy at the Year New Zealand Wine Awards, everyone agreed, it was a match made in heaven.
Like his mentor Kim Crawford before him, Anthony immerses himself in the entire winemaking process from the harvest to the blending to ensure every bottle is as good as his first batch.
Tasting through the wines with the guy who made them is always a delight. In this case, the service and food at Pacific Standard Time  (here's ChicagoMag's lively review) were excellent, and Anthony was a warm and friendly host. Born and raised in Australia, he moved to New Zealand when he became part of the Kim Crawford team and is now the face of the company around the world.