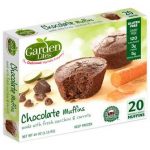 While we know how important they are to celiac disease and other sufferers, gluten-free baked goods have in the past mainly made us look elsewhere for treats. But we agreed to try a few samples from Garden Lites because they were also said to be rich in vegetables.
So glad we did. The chocolate zucchini edition tastes pretty rich as well as feeling almost as good in the mouth as a flour-based muffin might. A little less so for the Blueberry Oat version, but still very enjoyable. We ate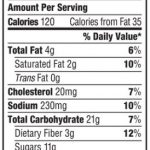 them straight out of the freezer – heating is recommended to bring out the best flavor – as mid-morning stave-off-starvation snacks. Both were definitely satisfying as regards both taste and to feeling virtuous about the nutrition. Vegetables are the first ingredients listed on all their versions (e.g., zucchini and carrots are first in the list for the chocolate one).
Garden Lites has just introduced these to Costco in the Midwest in boxes of 20. Keep them in the freezer. They're individually wrapped so no worries about re-sealing the package after opening. Happy to recommend them as healthier satisfying snack alternatives.