Everyone who imbibes tends to have his/her own favorite spirit, whether they like it straight up, on the rocks, or mixed with some other beverage. There's something satisfying about pouring a warming treat into a beautiful glass and toasting,  especially during the holidays. Here are a few suggestions to share either with companions around you or just to celebrate on your own.
Root Out Whisky. Yes, this whisky actually tastes like root beer! It's surprisingly pleasant and easy to drink. Honestly, it's so root-beer-y that at one point I was tempted to plop a big scoop of vanilla ice cream in the glass! A delicious and unique treat for any spirit lover. Root beer and vanilla flavors added to a 4-year-old Canadian blended whisky. SRP ~$26.
Alacran Tequila is a 100% Weber Blue agave tequila that tastes smooth and delicious on the rocks and or in a cocktail. Mix it with a flavored club soda or another favorite beverage for a simple-to-make cocktail with layered flavor. Alacran Tequila Blanco's sleek, matte, soft-touch black bottle with the company's logo makes a handsome, reusable bottle for your liquor cabinet. Priced at $42.00, it's available nationally and online. Launched in the US in 2011, Alacran Tequila is sold at restaurants, hotels, bars, stores and online and is featured at celebrity and charity events around the world. Consider one of the Alacran products for the tequila fans on your list – black bottle, tequila reposado, tequila anejo, and more.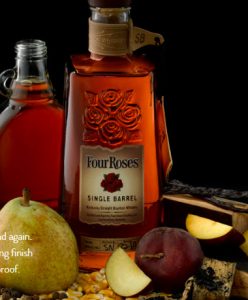 Four Roses Single Barrel Bourbon Whiskey is a classic expression with a nose of dried spice, pear, cocoa, vanilla and maple syrup. Sounds luscious, right? It is, indeed. And on the palate look for ripe plum and cherries – robust, full-bodied and mellow with a smooth and delicate but long finish. Straight up. On the rocks. In mixed cocktails. Any way you imbibe it, this is nice stuff. Gold medals and 90+ points in competitions everywhere for the past 10 years. SRP ~$45.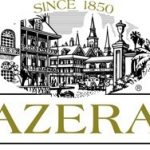 Caribou Crossing Single Barrel Canadian Whisky, the world's first single barrel Canadian whisky, received a Gold medal at the prestigious 2019 New York World Wine & Spirits Competition. Adhering closely to his exacting standards, world-renowned Master Blender Drew Mayville of Sazerac selects each barrel for its ability to contribute to the whisky's rich and complex flavor. SRP ~$50. Silver medals were also awarded to Royal Canadian Whisky and High River Canadian Whisky. Full results are published on the New York World Wine & Spirits Competition (NYWSC) website, www.nywscomp.com.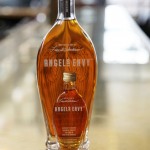 Angels Envy is an excellent cask-strength bourbon finished in a limited number of carefully selected port barrels. This extra step is becoming common for many vintners and distillers to give their products extra depth and complexity, and it works really well. Angels Envy ends up with a slightly different finish each year due to the painstaking selection of barrels. Look for notes on the nose of black tea, apple and honey, toasted oak, ripe banana and apricot, along with toffee, butterscotch, peach, toast and vanilla on the palate. If you can't identify all these, don't worry. Just close your eyes and let the complex aromas and flavors penetrate your senses slowly. A delicious way to toast, accompany foods, or finish a meal. It's available at Binny's, but check here for where else to find it. SRP ~$50. And while you're at it, check out their Angel's Envy Finished Rye – finished in rum barrels.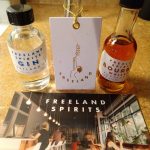 Freeland Spirits of Oregon is one of the only women-owned-and-operated distilleries, and it's  an interesting place to visit if you're in that state near Portland. They offer tours of their distillery, complete with a flight of mini-cocktails. See the equipment they use and learn how they craft their delicious gin and whiskey. Their gin is crafted in small batches using a unique blend of traditional heat distillation along with vacuum distillation, which allows them to use fresh, Pacific Northwest ingredients. Fresh herbal essences of rosemary, mint and crisp cucumber lift the nose. Grapefruit and lemon peel brighten the brisk juniper and bold spice. Pink peppercorn, coriander and star anise mingle with 10 additional dried botanicals in the copper pot still. The description is almost poetical, and the gin is very pleasant, even if you're not ordinarily a fan of that spirit, some versions of which can be overpowering, especially if, like some of us, you have nightmarish memories of way-overindulging in it once when you were young and foolish. They are always experimenting with finishes, so give it a try. And you might just fall in love with the unique design of the cool bottles they use to send their spirits out into the world. SRP ~$45.