As we were in the last post, how about his astonishing recipe? For Oreo-addicts (you know who you are) who love wine, this just might constitute dessert nirvana.
Wine, Nutella and Oreo cupcake with wine filling and frosting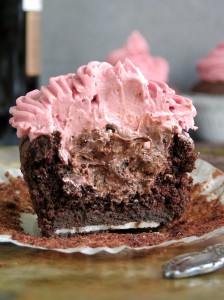 For the cupcakes:
1 cup all-purpose flour
¼ cup cocoa powder
1 teaspoon baking soda
½ teaspoon baking powder
¼ teaspoon salt
¼ teaspoon ground cinnamon
¼ cup unsalted butter, at room temperature
¼ cup brown sugar
2 tablespoons granulated sugar
1 egg
¼ cup Nuvino's Red Blend Wine
½ teaspoon vanilla extract
¼ cup Nutella
10 Oreos
For the filling:
For the frosting:
1 cup red wine, any kind you like
¼ cup granulated sugar
½ cup unsalted butter, at room temperature
2 cups powdered sugar
1 teaspoon vanilla extract
salt, to taste
Preheat oven to 350 degrees F. Line 10 muffin cups with cupcake liners. Set aside.
The cupcakes: In a medium bowl, sift together the flour, cocoa powder, baking soda, baking powder, salt, and cinnamon. In a large bowl, cream the butter and sugars together until fluffy. Add the egg and beat to combine. Scrape down the sides of the bowl as needed. Beat in the vanilla extract. Stir in Nutella and Nuvino's Red Blend until evenly combined. Slowly add the flour mixture to the wet ingredients and mix until just combined. Place an Oreo cookie on the bottom of each cupcake liner. Pour batter over each Oreo cookie and fill each cupcake liner about ¾ of the way full. Bake the cupcakes for about 20 minutes or until a toothpick inserted in the center comes out clean. Remove from oven and place on a wire rack to cool completely.
The filling: In a ziplock bag, place the Oreos and use a mallet to crush the cookies into small pieces. In a small bowl, combine Nutella with crushed Oreos. Set aside.
The frosting: In a small saucepan, combine Nuvino's Red Blend (see below) and sugar. Cook over medium heat, stirring, until sugar dissolves and wine comes to a boil. Reduce heat and simmer for 20 minutes (until the liquid is reduced to about ¼ cup or a light syrup texture). Let to cool.
Beat the butter until until smooth and creamy. Slowly add in powdered sugar (1/2 cup at a time), vanilla, and ¼ cup of prepared wine syrup. Beat until no lumps remain. Taste the frosting and add salt to cut the sweetness, if you prefer.
Assembling the cupcakes: Cut out the center of each cupcake with a sharp knife. Fill the cupcakes with Nutella & Oreo filling. Transfer the frosting to a piping bag fitted with a decorative tip. Pipe frosting into a swirl on each cupcake. Enjoy!
Brought to you by Nuvino, makers of single-pouch wines that might just be the future of wine packaging (right after those increasingly popular multi-liter boxes). If you live in California, you can buy their pouches of Chardonnay, Malbec, Red Blend, and Sauvignon Blanc  in lots of outlets. If you live in Chicago, order online through Liquorama.com or try one of their various wine club options.