As more and more discoveries are made on all fronts – from robotic exoskeletons to Dark Matter and Dark Energy in the universe – the world of food is no different. It just keeps coming up with new and exciting ideas, many of which are significantly healtheir than similar items in our pasts. Snacks, for example, and seasoning agents and even ugly-but-nutritious produce. Check out these 5 ideas: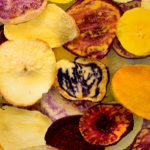 Kiwa Life, styling itself "The Taste of South America," searches for sustainably farmed vegetables in the growing regions of Ecuador. For example, their Andean potato chips, made from potatoes grown in the Andes Mountains, are processed at high altitudes to minimize cooking times and then exported around the world. A sample we tried proved to be crispy thin and delicious, with a richer, sweeter potato flavor than typical chips – of which we are huge fans here. We could say these Andean potato chips taste a bit more like real food than some of the US's top brands. The company also makes Golden Plantain Chips that were tasty, but not quite salty enough for our salt-craving taste. Also, definitely not as crispy, crunchy as typical potato chips. However, at only 65mg of sodium per ounce, they'd make a great crunchy-enough snack for those who must watch their sodium intake closely. The company espouses social responsibility, and that's good. Just wish they didn't have to ship everything so far. They've even got their site translated into Russian, but when you go to the "shop" page, it says shopping for their snacks is only available in the U.S. (in 12-unit boxes).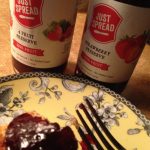 Just Spreads come from the same importing company, New Frontiers, as the Kiwa Life snack line. The spreads are made with real fruit, and the only added sweetener is apple juice concentrate – still a sugar, but healthier than common alternatives like corn syrup. Delicious on toast, bread, oatmeal, biscuits or whatever, it's great to know you're not ingesting a ton of cane sugar in each bite. Love that Four-Fruit one!
gimME Health makes organic roasted seaweed snacks. Read here about the family that runs the company. We tried the Toasted Coconut version. Turned out we had to sort of educate ourselves to the taste. Our first reaction was, oh, this tastes like very savory seaweed-wrapped sushi. Almost seemed too strong for a snack. But the next time we tried them, they seemed much more complex – crispy like chips, umami like…seaweed, slightly chewy from the coconut, and just a touch sweet. Delicious and surprisingly satisfying. A serving is stated as being a whole individual bag, but you may find yourself satisfied with less than the whole bag. How often does that happen with other salty, crunchy treats like potato or corn chips? Never, right? And by the way, most places don't even sell single serving bags of chips anymore. You buy one and you get 2.5 or even 3 servings in a bag – the calorie count grows exponentially as you eat your "small" bag. Anyway, these gimMe snacks aren't cheap at $3.99 for a .77 oz bag. But they're super healthy and uniquely tasty/satisfying.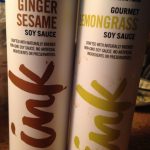 Ink Flavored Soy Sauces are a secret weapon for giving your culinary creations that sumpin'-sumpin' special that is so subtle that many people won't know what they're tasting. They'll just think your food is especially flavorsome and unique. Tried the Ginger Sesame version and the Lemongrass versions and found they gave a delicate boost of flavor to dishes like plain cooked quinoa or plain sauteed fish filets. The website gives suggested foods to use each type with. Other flavors include Garlic Sesame, Orange Chili, Thai Chili, Wasabi – all ranging "from sweet to heat." Nice to know it can be this easy to make a plain dish taste exotic. $10.99 per bottle with small discounts for larger quantities.
Imperfect Produce. One in five fruits and vegetables grown in the U.S. doesn't meet the strict cosmetic standards of grocery stores – often resulting in waste on the farm. Help farmers fully harvest their precious crops, and help more people have access to affordable fresh produce at 30-50% less than grocery rates. Sign up for your customized box of funny-looking but delicious, nutritious Imperfect Produce and save 33% off your box during the month of August to celebrate the innovative food delivery services 3 year anniversary; use the code "BIRTHDAY3." PLUS, they will also donate a meal to a customer-selected local food bank for every #giveimperfect hashtag used on social media. For box options, visit www.imperfectproduce.com/join. Order and search by zip code here.