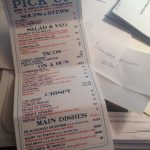 Have loved DMK Burger Bar at 2954 N. Sheffield ever since it opened several years back. Been meaning for a long time to get to their Fish Bar around the corner and finally did this weekend.
Seating available inside or out – it was a bit too loud and hot inside we can climbed onto one of the unusually proportioned picnic benches outside (the bench seat is set a little closer-in than average). Rolls of paper towels dot the tables in lieu of napkins. The menu's interesting, ranging from fresh oysters, Seared Tuna Salad and Head-On Prawn Salad to tacos, sandwiches (including po'boys), entrees, and some smaller items called "Crispy." I realize only now that the menu did not contain any variety of French fries – and I didn't even miss them. We really liked the of taste of the wine-of-the-day, Squandra Rosato rosé, and ordered a bottle ($27).
Ordered the seafood special of the day and got two nicely seared, very large scallops served with a little pile of crispy-bacon-lardon-studded Brussels sprouts. Very good. Companion raved about the fried shrimp po'boy ($12) – said it was one of the best sandwiches she'd ever tasted, and the shrimp were entirely ungreasy. A good-sized helping of out-of-the-box-colorful cole slaw was big enough to share.
A favorite for us both was the small plate of Crispy Lemon Rings ($5) served with crispy slivers of onion and slices of jalapeno. Absolutely delicious. The tempura-type breading was barely-there and deep-fried, well, crispy but not greasy. The lemon slices, skin-on, melted into something quite tasty and not at all puckery. This might be a dish I'd want to get with whatever else I order here next time.
And there will be a next time. Soon.