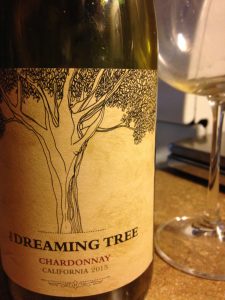 Dreaming Tree is a winery that loves the environment as much as it loves making wine. Not only are their wines  delicious values at well under $20, but they're also bottled in lightweight bottles that are manufactured with clean-burning natural gas. Labels are made with 100% recycled paper, using black ink printing—which means  no bleach is used and fewer toxins and heavy metals are released into the earth. And, get this, even Dreaming Tree's corks are recyclable. All of which are good reasons to try these wines, but then there's the taste! Below are tasting notes on some of their most popular vintages. Think green. Think delicious. Think value.
Oh, and if you're into music, the guy behind the wines is also the guy in front of the
Dave Matthews Band
. And he partnered up for Dreaming Tree with New Zealand native Sean McKenzie – winemaker par excellence for his entire lifetime. Their goal is to make wines that preserve the true terroir and style of California's fabulous growing regions.
And now the Band's professional chef, Fiona Bohane, creates recipes that pair with the wines and use local ingredients everywhere they travel. Check out some of the
cool recipes here
.
Dreaming Tree Crush 2014
. Blended of California's finest varieties, this red wine gives you raspberry jam and vanilla oak characters on the nose. The flavors remind you of juicy mixed berries, and the wine's tannins are full, yet soft and approachable. A robust red wine that goes great with spicy foods like barbecue ribs, Vietnamese-style pork sandwiches, or vegetarian stuffed poblano peppers. Worth every penny. SRP ~$15
Dreaming Tree Sauvignon Blanc 2015
. Lovely California-style SV, meaning its grapefruit zing is moderate and mellow as opposed to sharp. Winemaker notes: "fresh and juicy with tropical fruit aromas of passion fruit and kiwi. Finishing crisp and clean with hints of grapefruit and zesty lime." Delicious as an aperitif, or serve it with fish, seafood or zesty Mexican food. ¡Olé! SRP ~$15
And then there's
Dreaming Tree Chardonnay
– delicious with grilled seafood, goat cheese, herb-roasted chicken, or fruit/ricotta/arugula salad. And their luscious, award-winning 
Dreaming Tree Cabernet Sauvignon
 – aromas of berries, cherries and cassis, wraped in toasted caramel with soft, mouth-filling tannins. Try it with grilled flank steak, ribs or vegetable kebobs.
Environmentally conscious,
sustainably grown
, delicious wines at affordable prices and a good story to tell about them. Just in time for Mom, Dad or Grad gifts. Available at Walgreens, Target and lots of other locations around Chicago.