Giving gifts can be a huge challenge. Here are a few products we've sampled that you could consider for your kitchen-neatnik pals (Wellslock Storage Containers), your vegan-only circle (Just Sauces) and your chocoholic/sweets friends (American Heritage Chocolate and Dave's Sweet Tooth Toffee). Or you, if the shoe fits.
Wellslock single-snap storage containers. The container portions are made of a really sturdy, super clear, freezer and microwave safe plastic (but don't put it in there empty), and their unique locking lid is leak-proof with one double-snap. Took us a bit to figure out how to get the lids off smoothly. Sometimes the closure was so firmly seated that we felt we had to use a sharp knife to pry it open – which we were pretty sure was not the right approach. But once we figured it out, they come off pretty easily. The trick is to push/slide the lid to the opposite side once you release the double-snap closure tab. We love the sizes and shapes these come in – several interesting ones that you don't typically find in storage containers. One configuration, for example, is perfect for holding two partially cut lemons or limes, or a giant red onion, or a cut avocado, notoriously difficult-fit items. And happily, these actually are airtight, unlike some containers that claim to be but then fail. These are great for storing food items or, really, anything you want to be able to see into the containers to identify. No cloudy plastic to obfuscate the contents. The lids are made of regular somewhat cloudy plastic, but the containers themselves are almost as clear as glass, without the weight or the breakability factors. Don't know how much scratching will happen over time with using knives and forks in the dishes. So far no sign of that. Prices start at $9.99 for a single large container and then up to $29.99 for the 22-piece set. BPA free, freezer and microwave safe. Great gift for the foodie or crafty types on your gift list.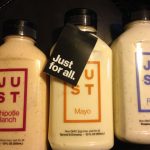 Just Sauces. This collection comes with mayo, Ranch, Chipotle and others. These are lower-calorie, vegan options for dressing salads, fish or whatever. You'll need to test out the flavors for yourself; opinions seem to vary widely. Our tasters thought the taste and appearance were somewhat artificial (it does contain modified food starch and canola oil – said to be genetically modified), so it doesn't feel like a "whole food" kind of product. But then, it's vegan. Many of us meat-poulty-fish-egg-eaters might feel that way about anything vegan. And, just as some Amazon reviewers complained, our samples arrived with imminent expiration dates. This line of products is a great idea but may not yet have thoroughly overcome its birthing pains, but if you're looking for vegan sauces to spark up your meals, these are a good starting point at a reasonable price ($4.69 and up on Amazon).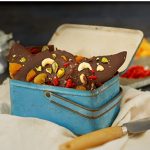 American Heritage Chocolate makes old-fashioned chocolate, and the company behind it is the Mars Wrigley Confectionary Company, so you know they know what they're doing. Yes,  delicious chocolate in grated, chunk and other forms, as well as things with chocolate in them, like hot cocoa and bark and so on. Their downloadable original recipes for both savory and sweet chocolate treats are good to make for your holiday guests, or pass them on to your giftees so they can make the most of your gift of chocolate. The company has even established a historical research grant. Launched in 2013, the Forrest E. Mars, Jr. Chocolate History Research Grant, named after the company's owner, awards grant funds for projects that investigate/educate the public on the history of chocolate or the chocolate making process from one or more cultural, historic or scientific perspectives. A good reason to gift friends and loved ones with chocolate, especially when it's artisan-made and you can get 20% off (coupon on their website) from Amazon.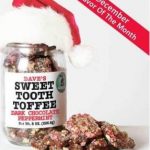 Dave's Sweet Tooth Toffee comes in a bunch of toothsomely delicious flavors like Butter, Dark Chocolate, Milk Chocolate, Cranberry Pecan, Maple Bourbon Pecan (oh, my!) and more. It's chewy toffee, not the crispy-break-apart kind you might be thinking of. Like any good toffee, it will stick in your teeth somewhat – that's part of the pleasure of toffee, right? And you can really taste the cream they use to make it. Num! It comes in jars and in cute pouches or mini-pouches with pictures of jars on them. They even sell a jar of scraps already broken up so you can use it as a topping. Or buy it in big variety tasting packs to hoard for yourself or split up to give to many friends. Pricing starts at $2.99 for a mini-pouch and goes up from there. A sweet-heart something-for-everyone gift for the holidays.