Bobby, Augie and Tim Arifi, owners of Bobby's Restaurant Group – following in their father's restaurateur footsteps – have been successful for 6 years already with North Shore hotspots Bobby's Deerfield and Cafe Lucci in Glenview. Now they've opened a second Bobby's location in the new ELEVATE residential building at 2518 N. Lincoln Ave. When one of the developers – himself a frequent diner at their Deerfield location – sought an elegant restaurant to fill the structure's main floor, he called on them to create this upscale eatery and bar and thus add to the sophistication of this trendy area.
The restaurant's two-story wall of glass looks out onto the popular stretch of Lincoln Avenue between Fullerton and Diversey, known for its abundance of friendly, unassuming bars and eateries. The lighting inside the new Bobby's restaurant is beautifully subtle and inconspicuous yet perfectly highlights the well-spaced tables, the bright original artwork on the walls (including the custom giant portrait of Bobby's dad) , and the elegant decor of the bar and the dining area. On the left as you enter is a long inviting stretch of comfortable stools along the bar. One large TV screen behind the bartender's area is kept quiet enough so that diners are not distracted. For drinkers and diners, Bobby's bar features 150+ wines by the bottle, 30 wines by the glass and 120+ boutique spirits. They keep their wines in a special refrigerated unit that's set a little colder than usual for reds, so if you like yours at room temperature, order early, or plan to hold the bowl of your glass in your hand for a bit.
The menu, which honors the original restaurant's signature dishes while adding some designed specifically to appeal to Lincoln Park tastes, is surprisingly eclectic. We received a small plate of bread to munch on while we waited, along with a nice little crock of garlic-paste/butter combo. Our server Milosh was happy to also provide individually wrapped pats of regular butter on request.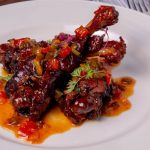 Appetizers like Smoked and Roasted Duck Wings – surprisingly large bones tipped with savory duck meat that's bathed in an excellent spicy Thai sauce – vie for attention with traditional items like Mussels in either white wine or tomato broth – meaty morsels delicious with the intensely flavored wine broth reduction.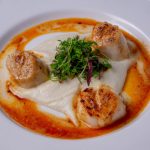 Be sure to ask for extra bread to soak that up with. Appetizers include several other seafood items like Salmon Pastrami (served with herbed cream cheese and potato pancakes, NUM!), Shrimp Bobby (washed with egg, cooked with lemon, butter, paprika and grilled vegetables) and Scallops (with cauliflower/potato puree), to name a few. You may want to come back multiple times to try them all.
We were pleased to meet Bobby himself when he came out to welcome us and encourage questions, as he did with each table of guests that arrived. He explained that their relationships with their seafood and other suppliers are paramount and that they always order just enough of the best and freshest. They'd rather run out of something than have it left over, he said, so they plan carefully.
The baby Kale and Quinoa Salad came lightly dressed with an understated lemon emulsion that complimented the mix. The Australian lamb chops, prepared in the Greek manner with lemon, garlic and oregano, were spectacular – meltingly tender and cooked precisely medium rare – succulent and perfect, even for my companion who normally prefers well done. Four slender long-bone chops stood stacked dramatically, bone-ends up, over a small heap of Vesuvio-style garlicky roasted potato wedges that were lip-smacking good, even reheated the next day. The vegetable of the day was a combination of carrots cooked al dente and broccoli florets drenched in garlic buttery goodness that went perfectly with the main course. Specials of the day included roasted branzino and swordfish entrees.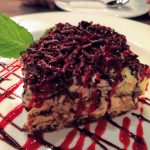 Desserts were inviting. We sampled the Key Lime Pie – a most satisfying layered delight with a just-tart-enough filling and a topping that tasted like a cross between lightly sweetened, beaten egg whites and whipped cream. Deliciously smooth and creamy. The Tiramisu was quite unusual. The intense crosshatch of chocolate and red berry drizzles on top almost overwhelmed the delicate coffee-infused mascarpone fluffiness underneath, but it certainly gave a unique touch to this popular sweet.
The wine selection was excellent. We tried several reds by the glass – Angels and Cowboys red blend from Sonoma, a Priorat blend from Spain, and a Willamette Valley Pinot Noir, all of which were delicious in their own ways ($13 and up). Clearly their wine director has taken great care putting this extensive list together.
The night we dined was only about their third week after opening, so we didn't expect perfection. Luckily, Milosh was very friendly and when he didn't have an answer for us, he readily went off to find it elsewhere. After the second time he asked if he could remove our bread plates, we inquired if this was a restaurant policy and he said yes. So don't hesitate to ask, if you prefer to have your bread plates remain.
Bobby's at ELEVATE is a relaxed yet elegant place to get some rockin' good food and wine or drinks. Come in your sparkles and furs or your business casual. We look forward to it becoming another  cornerstone of higher-end dining in Lincoln Park.