I love to feel welcome and elegant when I travel. The restaurant on the 16th floor of the tower at Grand Traverse Resort and Spa made me feel just that way on a recent visit. Called Aerie, it surely is – an airy delight. Graceful panels of ceiling-to-floor, white, lacy fabric separate the space informally. A wall of curvy booths offers cozy accommodations for small parties. The space was completely redone in 2007 by Simeone Deary Design Group of Chicago.
Walls of glass – 360 degrees around – let in the view of Lake Michigan bays and expansive Northern Michigan woodlands. And bathe patrons in the rays of the setting sun when the hour is right.
The evening we arrived for dinner it was still early, so the place was flooded with bright sunshine – too bright for comfort at many tables. Our host was gracious about letting us walk around to find a table with a little shade – and we were delighted to find a perfect spot.
We studied the menu over cocktails and asked for our server's recommendations. As soon as we ordered, an amuse bouche arrived consisting of two tiny cups of rich lobster bisque drizzled with vanilla chorizo oil and fresh squeezed lime juice and topped with lime zest and micro greens. What a tempting way to introduce a new soup being added to the menu.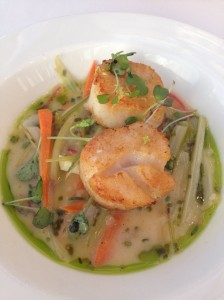 Cheyenne, our server, had highly recommended the scallops, so we ordered the scallop appetizer. The julienned vegetables were crisp and delicious, the scallops tender and full of flavor. The sauce – well, we had to ask for bread so we could soak it all up.  She told us she was bringing us bread with the next course, but we couldn't wait.
For main courses we had a fish and a steak entree, respectively. Nicely cooked – fish moist, steak done to order, my broccoli rabe, crisp – though my side mash and sauce were not favorites.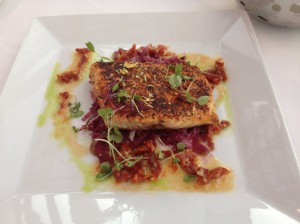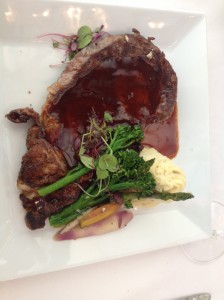 For dessert we studied the complex creations on offer and decided we just wanted some ice cream. Cheyenne consulted the chef and, eh, voilá, he kindly agreed to our request. Out came a delightful presentation of three different flavored scoops plus a small helping of pot de creme (each from one of the desserts on the menu) on a beautiful, crisply white four-section serving plate. We were thrilled – and loved the combination of flavors. We are hoping they'll put this on their menu for future visits!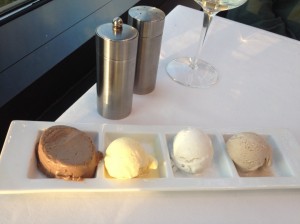 We were pleased with the wine recommendations and delighted with our experience. Cheyenne was attentive and friendly throughout. It was also fun to learn that one of the new Sous Chefs in the kitchen here, Nick Battista, worked with legendary Chef Charlie Trotter at his eponymous restaurant in Chicago before its untimely closing.
More about Chef de Cuisine William Matthews (Chef Bill) and stories about his culinary domain in another article.  Oh, and the wonderful spa, too.
When you next visit Traverse City for golf or gambling or whatever, treat yourself to a magnificent view and a good meal at Aerie in the Grand Traverse Resort and Spa.  A pleasant 7 hours from Chicago via Route 31 up the coast – and much prettier than the highway. Don't use Google Maps' directions; call the Resort at 800.236.1577 for nicer alternatives.