Editor's note: As of January 2020, both locations of Warm Belly have closed. We already miss this place!
Christmas is not quite yet a dim memory, but you've got a whole new year ahead to get acquainted with a new kind of treat. If "dough" is your favorite cookie flavor, we've got great news. You'll never have to be without your kind of cookies again now that Joe Dela Pena is gracing Chicago with two locations of his Warm Belly Bakery (1148 W. Monroe in West Loop, and 2472 N. Clark in Lincoln Park).
Cookie dough is where Joe, founder and owner of Warm Belly Bakery, started his dream. Despite his scientist-parents' propensity to serve up very good chocolate chip cookies made from rolls of Nestlé Toll House Morsels' dough, Joe the kid – and later the grownup – dreamed of eating cookies of all kinds that tasted as good as that dough. He began experimenting to find a cookie recipe that yielded cookies as close to the texture of cookie dough as possible without being mushy or raw-egg risky. And now Joe's dream is already blossoming beyond his expectations. We met with him at his West Loop cookie café recently to talk about how it all got started.
Joe is the picture of a warm, caring guy. His kindness and self-deprecating humor shine out from his tall, substantial frame, which he describes laughingly as "Body by Cookies." His West Loop space is a great place for a small, private meeting – cozy and inviting with tables and chairs, benches and walls full of art that's custom-designed for Warm Belly, including a giant painting of the company's cookie-belly logo.
Joe's mom had taught him some Filipino baking techniques growing up, but his soul kept calling out for more, so he continued messing around in the kitchen. While still in college, Joe promised cookie rewards to investors as a way to drive funding for his 5K run for cancer – and was surprised when people contributed thousands of dollars. More than he bargained for, having to bake all those cookies – after he came home from work. He was amazed to find that people continued, after the race, giving more money for the cause just so they could get more cookies. It occurred to him then. Maybe there's something going on here. A business hadn't been on Joe's radar, but…
Joe met his business partner at the gym where they both worked out. And the rest, as they say, is history. From locations in the trendy West Loop and recently a storefront in Lincoln Park, to a handy dandy food truck, vendor participation at Chicago Gourmet, and baking champion on Food Network, it looks like just the beginning. "We are where we are today from a combination of sweat and hard work and luck," said Joe. The Warm Belly concept has become so popular that franchise companies are already after Joe to work with them. "We're not there yet, though," he said. "Things have got to be repeatedly successful and then proven to be replicable before we think about going there." The new Lincoln Park location is a great start.
Joe's heart was in his original profession of teaching English to high school kids. He remembers loving Shakespeare from an early age because of a book that printed Shakespeare's English on one side and a modern English interpretation on the other. He said he learned pretty quickly how to interpret the language himself and as a result realized just how cool Shakespeare's stories really were, even in modern times. His other passion was coaching kids in tennis. Many of his former students remember him fondly – we heard about him from one of his coachees Meredith, now a talented young physical therapist in Lincoln Park – one of the many who kept urging Joe to open a spot in Lincoln Park.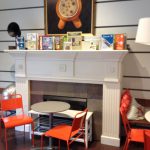 Now Joe's humbly grateful to be mentioned in the same breath as some of Chicago's finest chefs, and very happy that his new profession as Warm Belly cookie guru gives him lots of opportunities to interact with kids. Several schools near the West Loop location send a steady supply of young customers in for after-school treats, and parents become regular customers for birthday and other party orders. Joe makes sure when they come in the store, it's more than cookies that keep them happy. The mantel over the fireplace – right under the Warm Belly custom-painted logo pic – is loaded with books for all ages to enjoy. "The array is always changing," said Joe. "Occasionally a kid ends up walking out with one. Sometimes people bring in a new one."
The office and kitchen for Warm Belly is next door in the rare-and-antique-car building owned by Joe's business partner. Joe was kind enough to give us a look at his showroom-clean-and-organized storage and baking spaces and at the amazing array of flavorings, colors and add-ins that inspire him. Gives you a strong sense of how much imagination and care go into these cookies.
But nothing prepares you for the actual taste. On first sample, you may think, oh, these are pretty good. But then the magic sneaks up on you, and you find yourself irresistibly drawn to take another bite. And another. And if you're not really careful, it's shockingly easy to consume the entire quarter-pounder cookie at a sitting, particularly if you were hungry. We have had this issue with every flavor we've sampled. We leave it to you to make up your own WBB playlist of favorites. Uh, by the way, they deliver these addictive cookies via several popular services. Use Postmates to get them from the Lincoln Park location.
The array of flavors grows and changes on a regular basis – from the S'Mores cookies that won him the Food Network competition and the dozens of other flavors that rotate in and out, to the several that are fixtures of the store (PB&J, Double Chocolate Chip, etc.). One of our favorites is the beautiful purple Ube cookie flavored with a bean-like plant that's indigenous to the Philippines where Joe's family is from. We love that it's topped with a lovely swirl of not-too-sweet lavender frosting that coordinates beautifully with the purple dough. Num! Check out the whole Warm Belly menu here.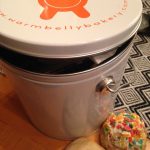 And by the way, we highly recommend you get at least your first batch in one of the WBB tins. The tin makes a perfect storage container – just the right amount of seal and breathability to properly preserve the slightly crunchy exteriors and cookie-dough-ish interiors of these giant treats. And of course, it's infinitely refillable.
Not meant for those who like their cookies thin and crisp but, for anyone who loves cookie dough or soft, chewy cookies with a slight crunch on the outside, these are the bomb. Don't say we didn't warn you…
Follow Joe on Instagram @thejoedelapena and follow the cookies @warmbellybakery.