Do you drink juice? I've tended not to drink anything much besides V8 and/or tomato juice. But I was recently invited to try several flavors of Beetology/WonderJuices. Took me a while to get to them, but it was definitely worth the wait.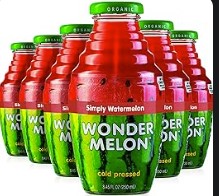 Picture these flavors: Wonder Melon, Wonder Lemon, and the Beet series: Beet + Lemon + Ginger, Beet + Cherry,  Beet + Berry, and Beet + Veggie and more. Sound good, right?
First, be sure to chill the hell out of all these flavors. They seem to come alive when they're nice and cold. Now you can use them for breakfast as the liquid in your smoothie or in a small juice glass as a shot of whatever vitamins/carbs are in your chosen flavor. And they are all just a tiny bit sweet, so it tastes kind of like you're having a shot of dessert with your bagel or eggs, toast and bacon.
Once I discovered how refreshing the juices are, I felt maybe the rich flavors were a little intense for me. So I experimented with mixing a couple ounces of the juice with a couple ounces of flavored carbonated water. Start with half juice and half water and see if you like more of one or the other. Delicious!!
And of course the next thought in my head is, hey, this would be great as a no-fuss cocktail. They've done all the selecting and mixing of the flavors for you. Again, experiment and you might come up with the next cocktail sensation. I'm thinking vodka or rum with the Wonder Melon flavor (which, BTW, has a lot of fiber!); gin with the Beet + Lemon + Ginger; maybe port with the Beet + Cherry. Or mix half and half with champagne for a new take on a mimosa.
Now remember, these juices are cold-pressed, which means they're extracted under immense pressure from fresh raw fruits and veggies.  They're marked "consume within 5 days of opening" because they're not pasteurized and can begin growing bacteria fasater than many things we put in our stomachs.
For a tasty cocktail, a unique smoothie, or a refreshing dessert-y drink, you can't beat these. Prices are high (~$23/6 on Amazon), so think of them as a lovely occasional treat and an easy way to entertain guests.