Always a pleasure to discover new products that touch us in some way – flavor being, of course, the #1 consideration. But sometimes the health benefits are significant, and sometimes the environmental impact is a blessing that results from the thoughtul care given by the entrepreneurs to the making of their products. And sometimes it's just about the pleasure of consuming!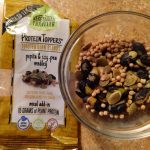 Vegetarian Traveler Protein Toppers. The idea is to provide plant-based protein snacks/toppers that are good for you and good for the planet. And I was slightly surprised but really happy that these things are pretty darn good. One whole snack bag (1.25 oz, ~150 calories) provides as much protein as two and a half eggs. Plus, they are a whole lot less trouble to peel, since they don't actually have to be peeled. Crispy, crunchy, full of protein, and lightly salted for your eating enjoyment. Tried these in plain Greek yogurt, but didn't find that too appealing, texture-wise. But it sure was a big hit of protein – first time ever my Fitbit reported 46% protein in my daily stats. Have since found I like them just straight out of the bag as a snack or meal supplement. Nice healthier substitute for the allure of the dreaded potato chip…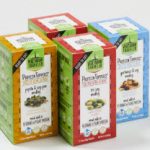 The toppers come in three flavors, all of which involve some form of soy. So if you're sensitive to that, these aren't for you. But otherwise, these mixtures make a terrific, easy, relatively low-fat way to painlessly add extra plant-based protein to your diet – and contribute mightily to the health of our beloved planet Earth. Because the amount of land we have to use to grow food for those animals is staggering – and in doing so, we are destroying the forests our atmosphere depends on. Not available in stores in Chicago yet, you can buy these online from Amazon at $24.99 for a 4-pack of all three varieties. Free shipping if you've got Amazon Prime. Works out to about $2 a serving.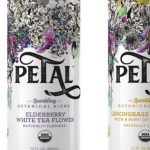 Petal Sparkling Botanical Blends. This brand makes a line of very lightly sweetened botanical-based sparkling beverages that make great foundations for cocktails or as refreshing bubbly beverages on their own. Flavors include several rose petal-infused types as well as lemongrass-dandelion, elderberry with white tea flowers, and peach marigold. You can imagine how aromatic and delicate these are just from the titles! Each 12-ounce can is only 10-15 calories, due to the 2-3 grams of added sugar-in-the-form-of-agave in each can. Compare that to the typical 39 grams – nearly 10 teaspoons – in a regular 12-ounce soda.
The rose aroma is lovely, though I usually like it in cosmetics more than food. The rose flavor was delicate but seemed a little artificial-tasting – as we are wont to find most anything made with rose flavor. The peach marigold was very nice and tasted only a tiny bit artificial. You can buy these online or at a number of Chicago locations – use their handy store locator here. Whether you worry about artificial sweeteners or heavily sugar-sweetened drinks, and you're looking for a unique beverage to help you cut down on soda consumption, these could make a good alternative.

Lucien Albrecht Crémant d/Alsace Brut Rosé. If you love a nice Pinot Noir, chances are you'll enjoy this dry sparkling wine made with 100% Pinot Noir grapes. We have always had enjoyable experiences with wines by Lucien Albrecht.
With this one you'll appreciate the nice balance – crisp acidity, with a creamy texture and long finish. This salmon-colored bubbly is made the same way genuine Champagne is – i.e., method traditionelle – and aged 14 to 16 months on the lees. Look for flavors of strawberry and wild cherry fruit that develop from the Crémant grapes grown in the lower end of the richly biodiverse soils on the slopes surrounding Orschwihr near the Vosges mountains. Under $20 and available at most wine merchants.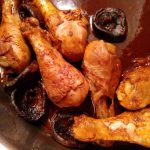 Miners Mix All Natural Spice Blends. We've all tried some of the many meat rub products out there. In a lot of cases we've discovered they're loaded with salt. So it was with some skepticism we set out to try some of samples graciously provided by Miners Mix. They're tagline is, "If it didn't exist in 1850, it ain't in here!" The point of which is to say the mixes are not loaded with artificial preservatives, HFCS, MSG or other artificial flavor enhancers. The heat in the spicier mixes comes straight from chiles instead of capsaicin oil.
In addition to the powerful flavors of these rubs, you'll also get a powerful but pleasant shock to the tongue and tastebuds when you realize with the first bite that there's decidedly less salt in these than many other seasonings with similar profiles. Started by a guy who loved grilling and eating BBQ from an early age, the company was conceived during a year-long visit to Australia where his California family felt terribly deprived of their favorite Mexican dishes. Returning home, his love of chorizo led him to want to create a better-tasting, less-fatty version of it. After much persuasion from friends and family, he started commercializing his recipe. And now you and I can get these delicious, lower-salt magic formulas to transform our grilled and baked dishes. Treat yourself to one of their dozen varieties here.