Villa Maria wines
evoke visions of New Zealand's North Island – rolling hillsides, misty mountain tops, lush fields and clear, easy-flowing rivers. These are beautiful wines from a beautiful country. And what a great idea to compare
NZ wines
with like types from California and France. A good way for Americans to really feel/taste/experience the differences and similarities.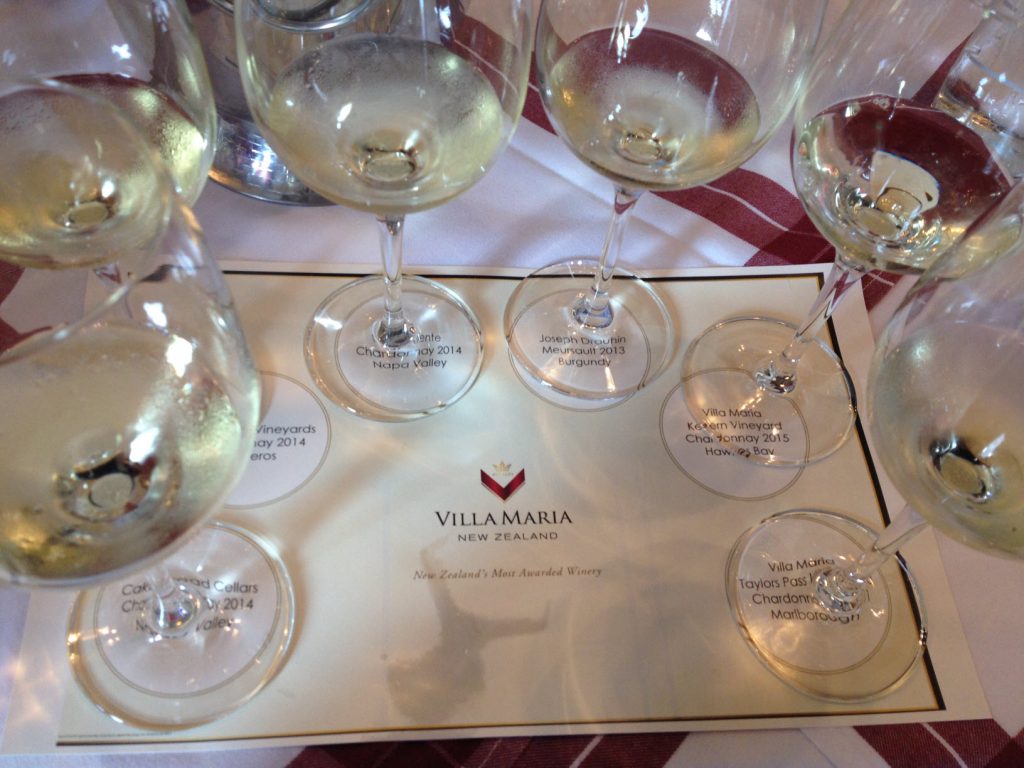 Villa Maria winemakers recently invited trade and press to do just that at Chicago's Tavern on Rush; they organized a comparative tasting of six elegant white wines, only two of which were their own, one French and the rest top-selling American Chardonnays. Just sitting at the table with professional sommeliers and the owner/original winemaker himself, Sir George Fistonich, and listening to Nick Picone, Villa Maria's current head winemaker, was an educational adventure as well as a tasting treasure.
The six wines were set out in pairs to be tasted parallel with each other. Notes on the first pair:
Cakebread Cellars Chardonnay 2014 (Napa Valley). Grown in clay soils and aged 1/3 in new oak, this wine shows many layers of flavor and gives taste sensations all around the mouth. California chardonnays are generally heavier than French versions, Nick said. Adjectives for this wine included low-oak, semi-dry, slightly dusty with lots of minerality. He said California wines tend to stay in the 13 plus-or-minus percent alcohol range.
Rombauer Vineyards Chardonnay 2014 (Carneros). A best-selling wine in this price category. Light, almost translucent with toffee, butterscotch and vanilla notes. It's aged one-third in American oak, which is rich in lactone, the compound that gives vanilla hints and a slight sweetness, according to the winemaker. This, he said, makes this wine very popular in the U.S. where it's often served as an aperitif and not with food. Alc 14.5%
The second pair were both Villa Maria Chardonnays, which Nick says are more comparable to white burgundies than to American chardonnays:
Villa Maria Keltern Vineyard Chardonnay 2014 (Hawkes Bay). They started making this wine in 2002, when it used to be a bigger wine with more oak made of 100% Chardonnay grapes grown in red clay soils in their flagship vineyard. Mature wines now are all fermented with 100% wild yeast. Nine months in French oak barrels; the wine has a hazelnut sweetness from the lees. They make only 500 cases of this for the entire world. You may not be able to buy a bottle of this at your local retailer, but it gives you an idea of the superb quality being produced at Villa Maria. Loved this one – top rating.
Villa Maria Taylors Pass Vineyards Chardonnay 2011 (Marlborough). This wine is completely different but has a similar fruit ripeness and freshness and acidity like a white burgundy. It's grown from Malbec vineyard in an area with a big diurnal swing (day to night temperature range) and known for its Sauvignon Blanc. All that gives the wine "a touch of green fruit, a bit of brininess, even a hint of grapefruit. The wild yeasts give it a smoky sulfide taste – like striking a match," said Nick. "We like that in a burgundy,"  Again, only 500 cases of this are made for the world. Ditto on finding this at Binny's.
The third pair made an interesting contrast, one a California Chardonnay and the other a French white:
Far Niente Chardonnay 2014 (Napa Valley). This pair is the most expensive of the six wines. Napa has a warmer climate than Carneros, which greatly affects the wines grown in each region. This wine is aged 60% in new French oak, so has a nutty, toasty, buttery flavor, much more subtle and very Burgundian in style. Especially high quality – top rating.
Joseph Drouhin Meursault 2013 (Burgundy). This one comes from a cooler climate and is grown in slate soils with more minerals. It's not as rich as some of the others; rather it has high acidity and great freshness with a slightly briny taste of oyster shells. Delicate, slightly lighter, drier, very good for pairing with foods.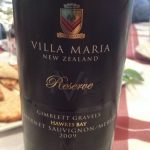 These are luxury category wines; suggested retail prices run between $35 and $60.  And look for more premium and luxury wines from Villa Maria – like their fabulous Reserve Cabernet Sauvignon 2009. And in case you fall in love with one or more of their wines and want to learn more, pick up a copy of the book, The Winemaker: George Fistonich and the Villa Maria story. It's an extraordinary tale of how one visionaory man built a worldwide business that parallelled the growth of the New Zealand wine industry. He's dedicated all of his energies to the pursuit of excellence in winemaking. And you're sure to enjoy experiencing the end results with a Villa Maria wine in your glass.