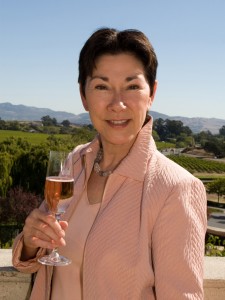 Eileen Crane's ordinary conversation is sprinkled liberally with interesting stories and lots of facts about fine wines and the foods that go with them, including fresh oysters, double- and triple-cream cheeses, and many more culinary delights. And that's probably because she's a graduate of Culinary Institute of America and the President and Chief Winemaker at the Domaine Carneros estate. Domaine Carneros is the winery for which she was hand-picked by Claude Taittinger to build and lead the American home of his French Champagne Taittinger dynasty.
Eileen and her group met for lunch at a downtown Chicago restaurant known for its fabulous seafood, GT Fish & Oyster. The place's smart, sophisticated design made a great backdrop for enjoying the latest vintages from the winery.
Sipping the Brut Vintage Cuvee 2008, Eileen tells the story of a time a few years ago when she first learned about the International Wines for Oysters Competition. Held each year at the Old Ebbitt Grill in Washington, DC. the contest seemed a perfectly natural place for her to enter that year's Domaine Carneros Brut. Eileen wasn't surprised when it ended up winning, hands down, over several hundred competitors from more than a dozen countries around the world.
Domaine Carneros Brut Vintage Cuvee, made using Pinot Noir and Chardonnay grapes, is the estate's signature wine. It's aged three years and is perfect to serve when it's released but is also designed to increase in complexity as it ages. The latest 2008 vintage surprises and delights your taste buds—extraordinarily elegant and well-balanced with a long, luscious finish. It makes a fabulous sipping wine and also goes beautifully with lots of foods: fresh oysters, shellfish, fish, rich cheeses, poultry and a variety of cuisine styles. Loved drinking it with GT's deliciously fresh oysters and their Crudos, a small collection of fish and seafood items prepared with unique flavors and sauces and served on a giant block of natural wood.
All Domaine Carneros wines are not just superbly crafted; they're also certified organic and DC is the only California winery to achieve that distinction for all its wines. When asked about the effects of the recent drought, Eileen said California escaped drought altogether and none of their vines suffered. In fact, she said, "We need agricultural workers, so maybe the places that have no work for workers because of drought could send those folks to California."
Sparkling wines are growing in popularity in the U.S. But in the 1700s it was a brand new thing in France. "Madame Pompadour introduced sparkling wines to the court. She turned Louis XV on to them. She is believed to have said, 'Champagne is the only wine a woman can drink and still remain beautiful.' You must have an advocate like that in order to get a new product introduced and accepted in the market."
Profoundly grateful to the long-ago intervention of Madame Pompadour, guests let Eileen pour from the latest version of DC's greatest star wine, Le Reve. French for "The Dream", the Le Reve 2006 vintage is made from 100% Chardonnay grapes using the traditional method Champagne and then aged in the bottle, on the lees, for five and a half years. This one, the 15th vintage in their long line of fine Blanc de Blancs, is also made to age beautifully. Some of the aromas you'll notice include buttery, yeasty brioche, white flowers, fruit and more. The palate caresses with crème brulee and toasted almond and notes of white fruit. And you'll love the long silky finish.
Eileen explained that this vintage needed only a small amount of dosage (a traditional sugar and wine mix added to balance sparkling wines) to reach perfection. Her guests explored the taste of East vs. West coast oysters—and came out firmly divided—but voted unanimously and joyfully that Le Reve made a perfectly beautiful accompaniment.
Taittinger told her when he recruited her in 1987 that he wanted to create America's best Blanc de Blancs. She remembers fondly when she tasted the first Le Reve vintage in a social situation. She vividly recalls feeling stunned at how beautiful it was. "Ah, so this is how it tastes!" she said to herself. After spending all those years and months babysitting the grapes, the juice, and the wine in the lab, the experience of tasting it in a social situation opened her eyes to the splendor of her creation.
In fact, that Le Reve vintage was so spectacular that owner Claude Taittinger opted to serve it at his millennium party at his hotels in Paris-an American sparkling wine!
Eileen made a point of saying that Le Reve is a special-occasion wine for her, too, not just for the buying public. She says you don't have to drink the whole bottle at once—and recommends using a closure suitable for fine sparkling wines. You don't need to pay a lot—try this champagne wine stopper from Crate & Barrel. She said she and her husband have sometimes toasted with a single glass of Le Reve and then, after stoppering and refrigerating the remainder, gone off to enjoy a week's vacation. They then happily returned and enjoyed a welcome-home toast from that same bottle of Le Reve, still elegant, perfectly balanced and beautifully bubbly.
Eileen tells another cool story about how in France all the winemakers have dressing rooms designed into their wineries. She said Taittinger suggested she include these in her design for Domaine Carneros. But when she asked and was told what they were for, she insisted they be taken out of the design. Apparently, in France it is important for workers to arrive in suits to show that they are doing a professional job. She told him it doesn't work that way in America. So they took the dressing rooms out and put in an employee break room instead.
Domaine Carneros is known for its award-winning sparkling wines, but they also use some of their grapes to create a small quantity of 100% Pinot Noir vintage. Their latest, the 2010, has aromas of cherry and pomegranate with hints of herbs like clove and sandalwood and goes fabulously with foods like beef and poultry, pork and salmon.
To go with the main courses, Eileen poured glasses of the 2010 Pinot Noir—a velvety smooth wine, perfectly balanced after being aged 10 months in oak barrels and then 8 months in the bottle. Despite less than ideal growing conditions in 2010, this vintage was carefully nurtured to deliver "expressive aromas, fresh and well-defined flavors, and a bright, balancing acidity." I loved its beautifully blended, silky taste, and everyone agreed it worked wonderfully with some of GT Fish & Oyster's lunch items—their delightful fish and chips, tomato-sauced mussels, fish tacos, and excellent crab cakes (see pictures).
Next Eileen next poured her guests flutes of DC's Brut Rosé Cuvee de la Pompadour. She says she loves the wild strawberry and peachy nose of the rose and confesses to happily drinking this wine all summer. This beautifully dry, silky textured, delicate salmon-colored sparkling wine bears absolutely no resemblance to what some older folks may remember of early American rosé wines. Surprise and delight yourself with a bottle of this gem—lovely as an aperitif or paired with duck, salmon and fresh berries-and with desserts.
It went very nicely indeed with GT's fabulous Salted Caramel Tart, served topped with an egg-shaped mound of Chantilly whipped cream-a dessert worth traveling for. A beautiful wine, eminently suitable to welcome guests or to accompany fine fare.
La Reve is less than 1% of their production. Rosé is 5%. Pinot Noir 22%. Their total production is 55,000-considered a very small winery. But Eileen says they are a very friendly winery with a big visitor center. If you're going to the area, come in and enjoy the cheese plate with some of their wines. The place is gorgeous-literally a castle-styled mansion that's patterned after the Taittinger chateau.
Eileen says there's an old saying: "When you get married, the first wine that should be in your mouth should be a sparkling champagne." I like that—and hey, you don't have to be getting married to live by it.
Ask your favorite wine supplier to order you some, or if you're out and about in Chicago, look for Domaine Carneros wines at the following fine restaurants:
RL Restaurant (Ralph Lauren, 115 E Chicago Ave, 3124751100
Sixteen at Trump International Hotel, 401 N Wabash Ave, 3120588800
Pops for Champagne, 601-605 N State, 3122667677
Ki Kis Bistro, 900 N Franklin St, 3123355454
III Forks, 333 E Benton Place St, 3129384303
Mon Ami Gabi, 2300 N Lincoln Park W, 7733488886
Gemini Bistro, 2075 N Lincoln, 7735252522
Mastros Restaurant, 520 N Dearborn St, 3125215100
Hugo's, 1024 N Rush St, 3129889021
GT Fish & Oyster, 531 N Wells St, 3129293501
Gibson's Steak House, 1028 N Rush St, 3122668999
RPM Italian, 52 W Illinois St, 3122221988