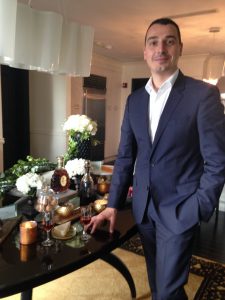 The message is clear: Rémy Martin XO Cognac, savored slowly, yields oh-such-rich rewards. Baptiste Loiseau is young to be in charge of creating some of the finest Cognacs in the world. At 36 – tall, slender, handsome and impeccably groomed – he is the youngest Cellar Master ever to be appointed to the Rémy Martin house of fine Cognacs. And he's earned that place, learning at the right hand of Rémy Martin's then-Cellar-Master after having already paid his dues studying wine making around the world.
Loiseau spoke with passion about how memories connect with fine Cognacs – the layers and subtleties of this fine distilled spirit evoke not only aromas and flavors but also feelings. He grew up spending copious amounts of time with his grandparents, who grew flowers and vegetables and taught him from an early age to pay close attention to scents and flavors.
He decided first to study agriculture, in honor of his fond memories of learning at the feet of his grandparents, and then moved into research. But he found he missed contact with people. Wanting to be in a job with much contact with others – and of course that included good food and wine in some way – he settled on winemaking. He knew this career would also allow him to travel the world. In particular he wanted to pursue the intense curiosity he'd developed from reading about South Africa. In the six years he first studied winemaking, he spent two in Toulouse, then traveled to Montpelier, Bordeaux, South Africa and New Zealand, learning techniques along the way.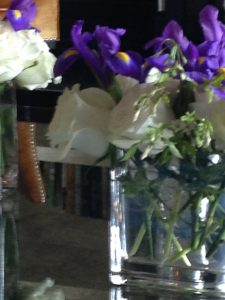 But his heart was drawn back to Cognac. Having experienced the rich multitude of aromas emanating from those small copper pot stills full of eau de vie, he wanted to learn what was going on in there. So his next step was to spend two years researching the connections between grapes and eau de vie. And that's when Rémy Martin invited him to join their team, led by their Cellar Master – actually, Mistress. She took him under her wing and taught him everything she knew about how to turn eau de vie into the distinct style of Rémy Martin. He spent seven years under her expert tutelage, learning how to select the eau de vie, determine the quality of the cask, and make the blends. "She was like my mother at work," said Baptiste.
And then, when he was just 33, she handed him the reins. He looks ahead now to always innovating while honoring the spirit of Rémy Martin. He welcomed Chicago visitors recently at the Waldorf-Astoria.
 One of the distinguishing differences, said Loiseau, between Rémy Martin and other Cognacs is the fact that all their grapes and eaux de vie derive from just two plots of chalky soil in the Champagne region of France. Also, they don't just distill the clear eau de vie but also manage the lees – the natural yeasts that contain so many of the aromas and are present in wine cellars. "Our wines from which we make eau de vie must, in themselves, be perfect," said Baptiste. "The vapors from these wines escape and become liquid, creating the heart of the eau de vie – elegant with concentrated fruitiness."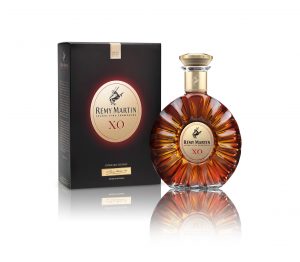 Okay, what's the right way to taste the finest Rémy XO? You must take your time, says Baptiste. The aromas reveal themselves gradually as the liquid sits in the glass. First, you will notice some fruitiness. Then comes the richer flavors of nuts. And later, the surprise of complements to dark chocolate. "Do you keep the chocolate in your mouth when you taste the Cognac?" He nodded and watched my surprise as I experienced an explosion of flavors and sensations all around my mouth – utterly delightful. He smiled. "That is what happens when you combine dark chocolate with XO. But you have to wait a while. The right complementary flavors and aromas are not released until the liquid has been in the glass for a little while."
"The floral notes don't reveal themselves until the spirit has aged at least 10 years," he said. "The bitterness of the chocolate highlights the softness of the spirit." He kept murmuring: "butterscotch, oranges, rich, yeasty brioche…" It was a pleasure to see how deeply involved he was in experiencing and naming all the complexities of this magnificent Cognac. Gives the rest of us something to aspire to.
He talked about the tasting events they put on at the distillery for four to six guests at a time. They offer each group 20 to 30 samples of eaux de vie during the winter season. The first round of tasting, guests are asked to choose their own reactions to each – fortunately for the aroma-impaired, you are given a multiple-choice sheet to check off – and then they go through the tastes again with Baptiste leading the process. He asks guests what feeling they experience with each sample. Plus, guests are allowed to assign bonus points to each deserving sample.
Besides the XO, Rémy Martin makes a VSOP that exhibits a harmony of flavors like vanilla and dried apricots. 1738 expresses nuts and vanilla. If you're looking for a luxury gift for your Cognac-loving dad or grad, you won't go wrong with Remy Martin.