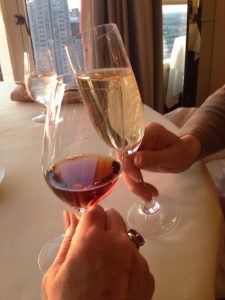 How do you pick wines you think you'll like? Perhaps you read respected publications like Wine Spectator or the New York Times wine reviews. You might follow a few well-known wine bloggers or tweeters who do the searching for you.
Another way is to identify an importer that you trust. And it's good, too, if that importer can also direct you to locations where you can buy the wines they import. And that's exactly what Pasternak Importers do. First, they select a winery in a specific location. Then they do the taste-testing to make sure the vintage or the blend meets their quality standards. Imagine trying to pick out your own wines from thousands produced in a region, the dozens or even hundreds of wines produced by a particular winemaker! Even master sommeliers, who get paid to do this stuff, have to study diligently and practice for long periods of time before they can do their work of informed recommending.
Pasternak deals in wines in the affordable category and all the way up to premium and even luxury wines – French, Italian, and more. You can search their portfolio by region, varietal or brand, and they have an extremely handy
"Find Our Wines" widget
that lets you locate multiple places you can find the wines you decide to try. Just put in your zip or city and state – country? – and click to see who carries what you're looking for.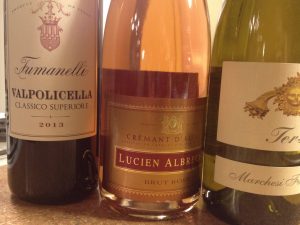 Recently Pasternak shared a few of their wines in several price categories for review purposes. A few notes about them below:
Valdo Oro Puro Prosecco superior DOCG. A light and elegant wine with a nice bubble (Charmat method) and just enough sweetness. SRP $21
Valdo Rose Brut, A lovely medium pink bubbly that's perfect for company or just for fun. Called a "Best Buy" in Wine and Spirits 8/16 issue. SRP $16
Thomas George Estates Estate Chardonnay. Aromas of star fruit, lemon, banana and hazelnut characterize Russian River Valley Chardonnay. Subtle flavors of citrus zest and custard  express themselves among stronger notes of stone fruit. The finish lingers long with a nice fullness. SRP $30

Pinot Noir, prosecco and Chardonnay from Pasternak

Thomas George Estates Estate Pinot Noir. Wine Enthusiast says: "Raw earth and black tea combine for a classic take on the variety, high-toned in wild strawberry and red cherry. Tightly wound, it opens in the glass, staying light but with texture and body, a floral wine with just enough weight." SRP $43

Marchesi Fumanelli Terso Veneto IGT. The blend of 50% Garganega, 50% Trebbiano Toscano makes a beautiful white wine. Intense, nutty, and toasty aromas on the nose. The palate is concentrated and powerful with lemony freshness and bready notes. A striking wine with flavors of acacia, lime blossoms and fresh apricots. Amazing acidity. SRP $40

Marchesi Fumanelli Valpolicella Classico Superiore DOC. Brilliant ruby red color, with a pleasant aroma of dark cherry and mature forest fruit. Dry and velvety on the palate, with a hint of bitter almond. Enjoy the touch of sweet vanilla and the soft tannins. A well-structured wine with a soft, intense, long and persistent finish. A beautiful, rich and robust red to love with your Christmas tenderloin roast beef or your finest Hanukkah braised brisket and latkes. SRP $30

Lucien Albrecht Cremant d'Alsace Brut Rose

. Strawberry and wild cherry fruit flavors, with a touch of richness on the mid palate. Dry, crisp acidity and a creamy texture and long finish. 90 points from Wine Enthusiast in 2015. SRP $22